Four of 5 suspects in Bellevue Walmart robbery arrested
BELLEVUE -- Five suspects in the strong-armed robbery of two women in the Bellevue Walmart shopping center in December have been identified through tips from the public, and four of the five have turned themselves in and were arrested, the Bellevue Police Department said Monday.

Police said information from members of the public, including viewers of Washington's Most Wanted, helped identify the four suspects.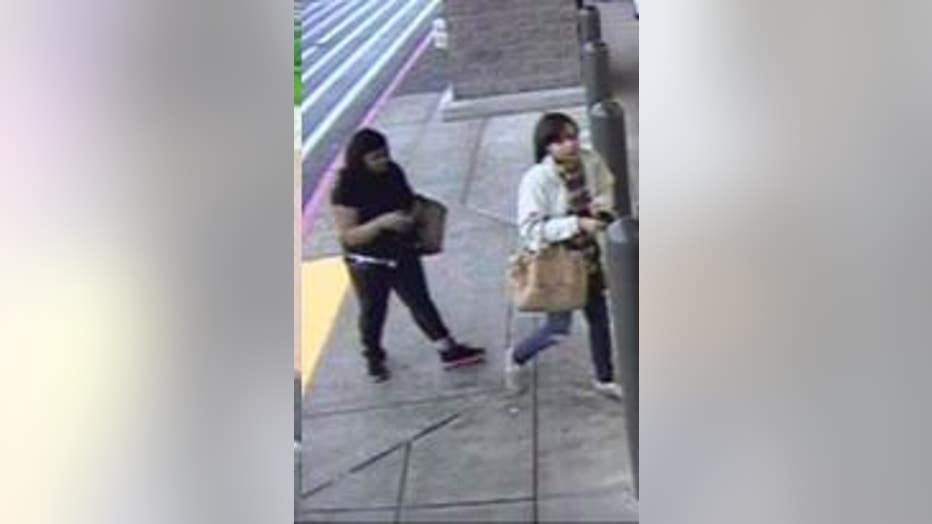 The fifth suspect in the Bellevue strong-armed robbery is at the right, in the light-colored coat. (Photo: Bellevue Police Dept.)


The fifth suspect is still at large and police are asking that she turn herself in for questioning.  She is described as a dark-skinned female in her late teens to early 20s with a thin build, about 5' 2" to 5' 7", wearing a tan coat, blue jeans, and white shoes.

If anyone has any information on the whereabouts of the suspect in the attached photograph, please contact detective Jenny Robertson at 425-452-6050.

Police would also like the unknown male shopper who acted as a Good Samaritan to contact the Bellevue police.



Two women were attacked in broad daylight in the middle of a Walmart parking lot last month, and Tuesday police released the surveillance video of the attack and the suspects as they tried to rip off the women and knocked them down.

It happened at the Bellevue Walmart in the Kelsey Creek Cener on 148th.

Police detectives want to identify the three men and two women who, they say, were clearly stalking their victims.

Surveillance video shows the two victims, who had just bought items for a food bank, heading toward their car. One of the suspects asked to use their cell phone, then tried to steal their necklaces.

"He comes around to that first woman and grabs her neck, she falls down and then he starts to scuffle with the other woman and that's when the good Samaritan enters in," said Bellevue police spokeswoman Carla Iafrate.

Another shopper waling by saw the robbery, and ran over to help -- but the crook's two buddies jumped in and started beating him. Then they all ran off.

Bellevue police praised the Good Samaritan and said they hope to hear from him, as he left before anyone got his name.

"Here, he's helped these two ladies. Nobody knows who he is and if he sees this video, we really want you to call in so we can talk to you and we really appreciate the fact that you helped out these two ladies and thank goodness for someobody there that would actually stop and help people," Iafrate said.

Police said two of the men had dark skin and look to be in their late teens to early 20s. Another had light skin and was wearing a black-hooded coat.

As for the two women, detectives say, they both had dark skin, but one had a thin build and the other was heavier.

Police said they were all in a burgundy mini-van that is possibly a mid-80's to early 90's Dodge Caravan or Plymouth Voyager.

There is a cash reward for their identities.. Call Crime Stoppers at 1-800-222-tips.