Former WMW fugitive Yourhighness Jeremiah-Bolar charged in Des Moines murder


DES MOINES, Wash. --  King County Prosecutors have charged 22-year-old Yourhighness Jeremiah-Bolar with Murder in the second degree and Unlawful Possession of a Firearm in the first degree.   He is accused of shooting and killing 31-year-old Andrew Carter on October 28th.

On November 6th, Des Moines Detectives located Bolar in Renton with the help of the US Marshals and Department of Corrections officers.   He was taken into custody without incident.  

According to court charging documents, Bolar first denied to investigators that he was in the parking lot of the Redondo Square shopping complex located at 27005 Pacific Highway South on the night of the shooting.

When detectives showed him surveillance video of his 1997 Toyota Camry in the shopping complex and an image taken on a grocery store security camera,  Bolar admitted he was there.    He then told detectives that he shot 31-year-old Andrew Carter two times with a 9mm handgun because he was scared when the victim approached his vehicle.

Bolar told police that he thought Carter was sent there to kill him or get his car.   After the shooting, he said he  drove to Renton where he told police he "arranged to have the gun thrown in the ocean and have the car sold to 'some Mexicans'."   Detectives say he told them he got the gun 'on the streets'.

Crime Stoppers of Puget Sound says a tip from a Q13/Washington's Most Wanted viewer helped Des Moines Police locate Bolar's vehicle and identify him as a suspect.  The tipster will receive a $1,000 reward.

Chief Ken Thomas said, "It was due to the tireless efforts of our Detectives following up on a tip provided by a member of the community which allowed for the successful resolution of this case."

This  is the second time Bolar has been caught thanks to tips from Washington's Most Wanted viewers.

King County Sheriff's Detectives arrested him on October 16, 2014 after he was identified from surveillance video during a smash and grab burglary at a Newcastle jewelry store.   Bolar pleaded guilty to two charges of burglary, criminal trespass, theft and attempting to elude police.

He also has a conviction for Attempted Unlawful Possession of a Firearm in the First Degree.

Bolar is being held on $1,000,000 bail. He is WMW Capture #1028.

ORIGINAL STORY:

Police are asking for the public's help to locate a tan or gold 1998-2001 Toyota Camry LE used in a homicide Sunday night and to identify the driver/owner.  The vehicle has dark tinted windows and is missing the front right wheel cover.

At 9:14 p.m., Des Moines Police received a 911 call from a citizen at a shopping complex at 27061 Pacific Hwy S. that a gunshot victim was lying in the parking lot. He was pronounced dead at the scene.

The victim is not being identified at this time.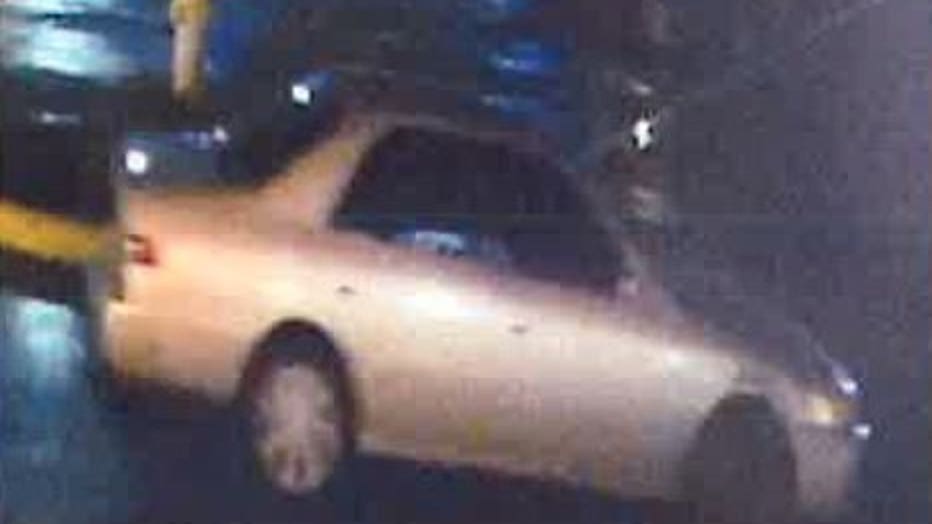 Crime Stoppers of Puget Sound is offering a $1,000 reward for any information that leads to an arrest in the case. You can remain anonymous. Submit a tip by calling 1-800-222-TIPS (8477) or use the P3 Tips App that you can download to your phone for free.

You can also go to www.P3Tips.com to provide the information. If you would like to speak with investigators directly, contact the Des Moines Police Department at (206) 878-3301. However, you must submit the information to Crime Stoppers as well in order to be eligible for the $1,000 reward.