Former Seahawks lineman Chad Wheeler pleads not guilty to felony domestic violence charges
KENT, Wash. - Former Seahawk Chad Wheeler appeared in King County criminal court Monday and pleaded not guilty to felony domestic violence charges. 
A judge ordered the offensive lineman to remain in Washington on home detention and wear a GPS monitoring device on his ankle. He's out of jail on a $400,000 bail. 
Wheeler, 27, was arrested Jan. 22 after reportedly attacking his girlfriend and choking her until she was unconscious.
The attack was so severe that when police asked if she thought she was going to die, the victim said "I thought I already had."
The victim was in court Monday wearing a sling on her left arm, according to ESPN. A representative read the following statement on her behalf: 
As you consider Chad's custody status, I want you to know that I believe that as long as he is out of custody, I am not safe.  When Chad attacked me, he first sat on top of me, choked me, stuffed his fingers down my throat and covered my nose & mouth with his hands. I begged him to stop.  When I tried to get away, he broke and dislocated my arm.  When I came to, he strangled me again, rendering me unconscious a second time.  When I awoke a second time -- covered in my own blood -- he said,  "Wow, you're alive."  When I locked myself in the bathroom to call the police, I could hear him speaking coolly to his father over the phone.  Chad never called the police even though he thought I was dead. 
Now, Chad is out of custody staying in a hotel watching this play out on social media.  This current status places my safety at risk, and I do not believe that a protective order or a condition of release is sufficient to keep me safe. 
My first request is that you hold Chad in custody in the King County jail and that he is not released.  If the Court will not do this, then I ask that he be required to serve his time on closely monitored (24/7) home detention at his family home in Los Angeles.  I object to him serving his time in Seattle, which places me at risk.  I also object to him serving his time essentially on vacation in Hawaii.  He and I were supposed to be on vacation together at that location.  Instead, I am here, undergoing medical treatment, handling a barrage of attention and abuse on social media, and dealing with the ramifications of this horrific attack.  Permitting Chad to serve his time in Hawaii under these circumstances is not acceptable.  Thank you for taking the time to hear from me.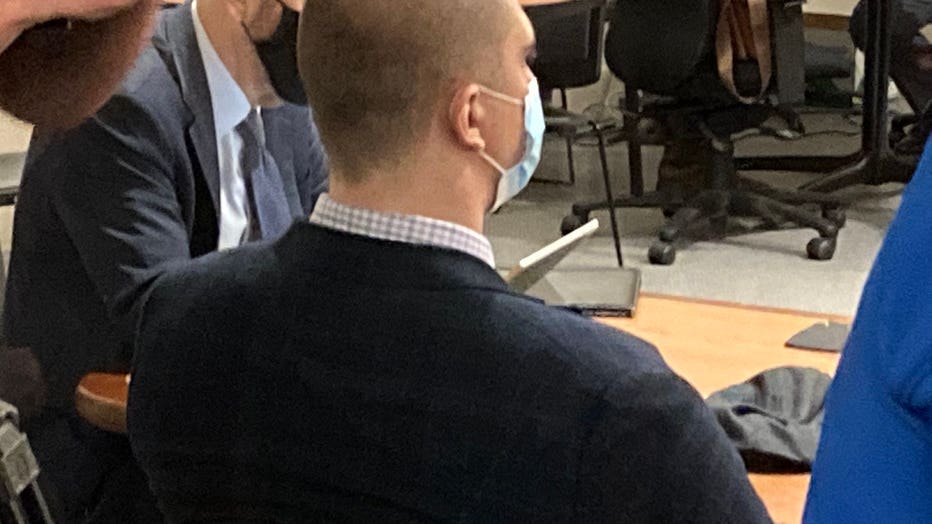 Former Seahawks offensive lineman Chad Wheeler in King County court (Q13 News photo)
RELATED: 'I am truly ashamed': Former Seahawk Chad Wheeler makes statement after arrest for brutal attack on girlfriend
Days after his arrest, Wheeler apologized on Twitter and said he was having a manic episode caused by bipolar disorder. 
The Seahawks released Wheeler last week after news of his arrest spread. 
Wheeler is charged with first-degree domestic violence assault, domestic violence unlawful imprisonment and resisting arrest. If convicted of both felony domestic violence charges, the standard sentencing range is 9-12 years in prison, according to the King County Prosecuting Attorney's Office.