For a third day, violent clashes between police, protesters in Turkey


ISTANBUL, Turkey -- Protesters hurled rocks and police fired tear gas in Istanbul on Sunday, the third day of demonstrations.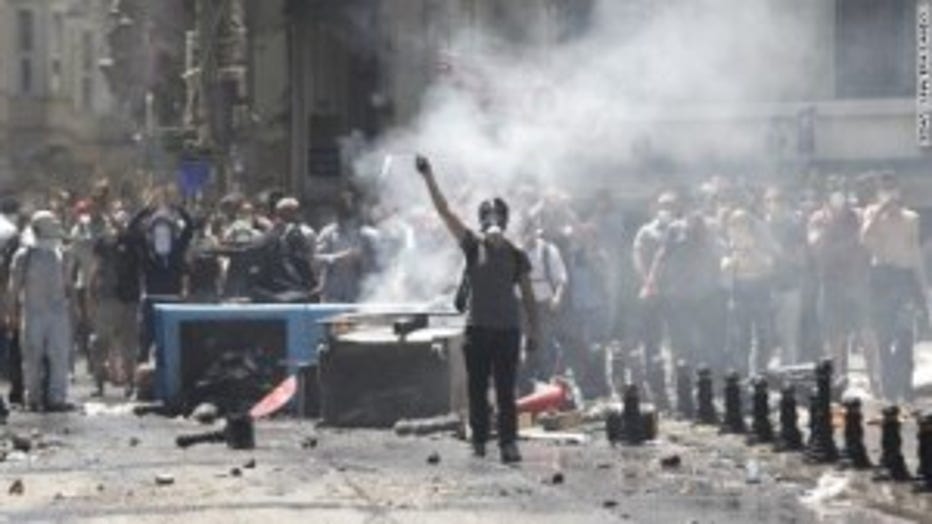 Turkish protesters wearing gas masks face off against riot police near Istanbul's Taksim Square on Saturday, June 1 (Photo: CNN)


Thousands of protesters remained in control of the city's Taksim Square after security forces abandoned the district Saturday following 36 hours of vicious clashes and angry demonstrations against the government.

Demonstrators erected makeshift barricades at the entrance to the square, which holds huge symbolic importance for Turkey's leftist political parties and labor movement.

There were reports of confrontations in at least one other neighborhood in Istanbul and in cities such as Ankara and Adana, where a man told CNN the situation was bad. Police fired tear gas in Ankara to disperse demonstrators.

"There is civil police arresting people all over the place," Cenker Kardesler said by phone. "The police tried to corner the people. They came at us from both sides."

In Taksim Square, tensions remained high between protesters and police, but the scene was calmer than it had been in recent days. Many people helped municipal workers in their cleanup efforts.

To read more details, latest updates, click here for CNN story.