Football coach fired for praying on field files lawsuit against Bremerton School District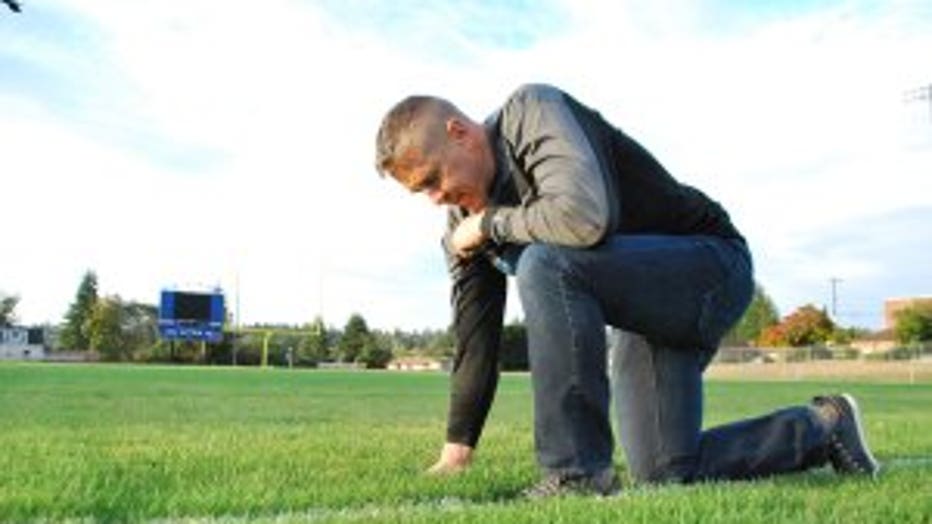 Coach Kennedy kneeling at the fifty-yard line on the Bremerton High School football field.Photo credit: First Liberty Institute


TACOMA -- A Bremerton High School assistant football coach who says he was fired for praying at midfield after games has filed a federal lawsuit against the school district.

The Liberty Institute, the Texas-based law firm that's representing coach Joe Kennedy, claims the district violated his right to free speech and free exercise of religion. The lawsuit, filed in federal court in Tacoma, also claims the district violated his rights under the Civil Rights Act of 1964.

Kennedy had prayed before and after games, sometimes joined by students, since 2008. The district asked him to stop when the practice came to its attention this year, but he persisted by silently taking a knee and praying.

The district argued that students could feel coerced to participate in religious activity when they see their coaches lead or endorse it.

Kennedy's contract was not renewed after the 2015 football season.

The suit says Kennedy received "overwhelmingly positive performance evaluations" prior to the 2015 season, each one recommending he be rehired. The suit does not seek any money. Instead, Kennedy wants to be reinstated as coach.

"When the school district fired me, I was devastated," Coach Kennedy says. "I really hope that the school district will give me my job back so I can get back to doing what I love most: coaching my players."

Back in December, Kennedy filed a discrimination complaint with the U.S. Equal Employment Opportunity Commission. In June, the U.S. Department of Justice issued a right-to-sue letter to Coach Kennedy, according to his lawyers.

The Bremerton School District released the following statement:

"The Bremerton School District received notice today that a lawsuit has been filed in federal court by a former high school assistant football coach. We are reviewing the complaint and will be working with District legal counsel to prepare the District's defense. Because this matter is now before the federal court, it is not appropriate to discuss this case in the public. We will rely upon the federal court to resolve this matter, and look forward to presenting the District's case in that esteemed venue."

Watch a previous interview with Coach Kennedy below: