Flooding, drainage system issues prompt partial Seattle homeless camp sweep


SEATTLE -- It's almost eviction day for a handful of homeless people who've built an unsanctioned encampment between Myers Way and Highway 509 in Seattle.

City officials say they're worried about flooding problems and illegal dumping that's clogged a drainage system.  So there's a sweep planned for Wednesday morning.

"We get a lot of trash, needles, human waste," said Ben Calot, who lives off Myers Way in Seattle near an unsanctioned homeless encampment.

"This is the skin of Romex wiring right here. This has had all the wiring stripped right out of it," said Calot.

Calot has lived in his home for 12 years.  He says the unsanctioned encampment started growing about three years ago.

"The panhandlers come up the hill with hand carts, raid the neighborhood and then roll back down the hill with a full cart.  They didn't pay for this stuff.  It came out of people's yards," said Calot.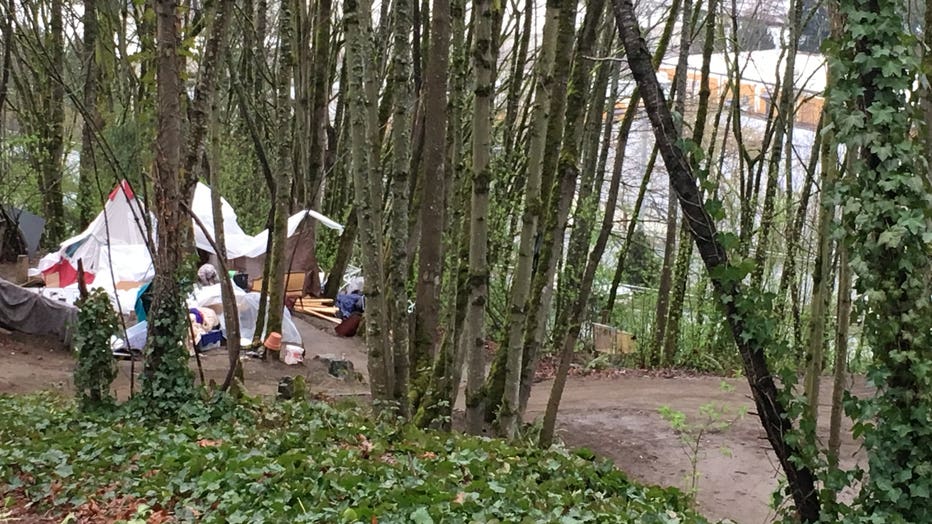 Just beyond a gate, and a no trespassing sign, is an unsanctioned homeless camp with more than a couple dozen makeshift tents and structures.  Calot says he's contacted the city of Seattle about it for years.  He says he's even gone to numerous City Council meetings but doesn't think his concerns were addressed.

"We're not criminals, we're not. We're just regular people," said a transient woman.

One of the campers spoke with us off-camera.  She says she's lived in the woods off Myers Way for four years.  She mostly wants the city to leave her and the other campers alone but would also like city crews to do a better job of cleaning up the trash in the encampment.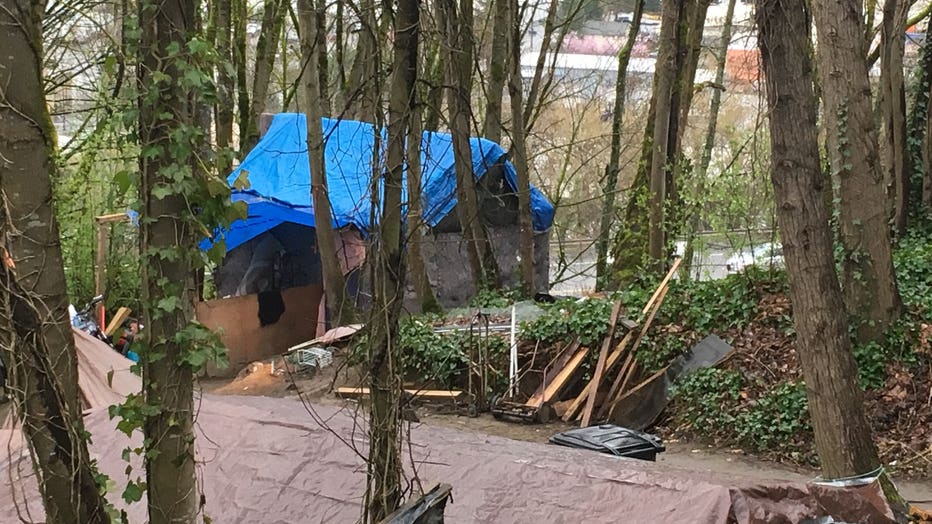 "It's a lot of problems. They bring a lot of people into the woods that don't need to be in the woods," said a transient woman.

You can see a small community of makeshift campsites with plenty of trash and debris scattered about.  Deeper into the woods, you'll find a WSDOT drainage system that is clogged and starting to flood.  City officials say that poses a risk of flooding to the campers and to Highway 509.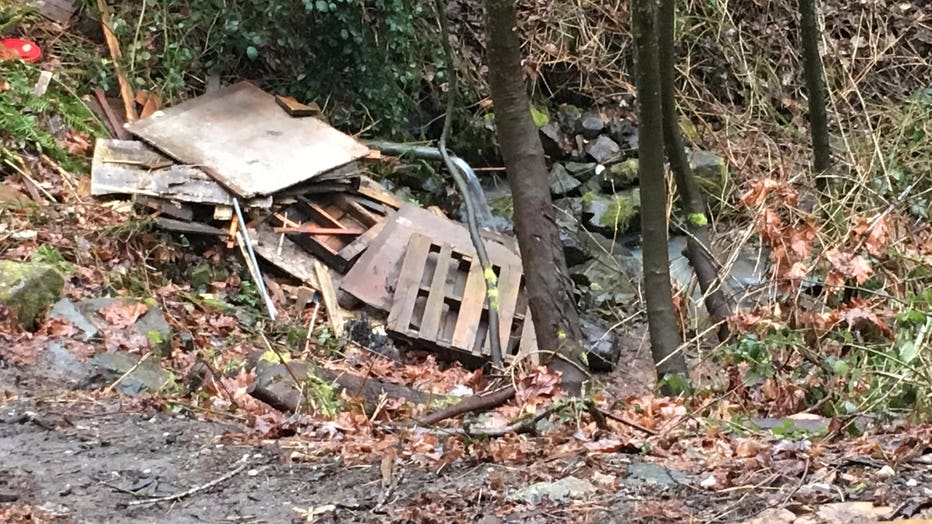 "They just dump the trash out here and it just cascades down to 509," said Calot.

But you might not notice a difference up here because most of these sites will stay. City officials say they can't sweep the entire encampment because they don't have enough shelter space to offer to everyone currently living there.

"Frustration left a long time ago, anger has set in," said Calot.

Calot says he's angry the camp isn't going anywhere anytime soon because the city only plans to sweep the structures that are too close to potentially sliding down on Highway 509.  The city's plan will only ask maybe six campers to leave.  The other dozens of tents and structures will stay.

"It's been three years, the city of Seattle has made promises they're not keeping and I'm done with it," said Calot.

Wednesday morning, WSDOT Crews will work on the drainage system tucked into the banks of Highway 509.  The city of Seattle's navigation team will offer spots in a nearby shelter to campers who want it.