'Float' over Seattle! Space Needle unveils new glass benches


SEATTLE – The Space Needle's $100 million renovation project is inching closer to completion with the debut of 10 signature glass benches or Skyrisers.

Each Skyriser is slightly inclined allowing visitors to sit back and experience the intense feeling of floating over the Seattle skyline 520 feet above ground.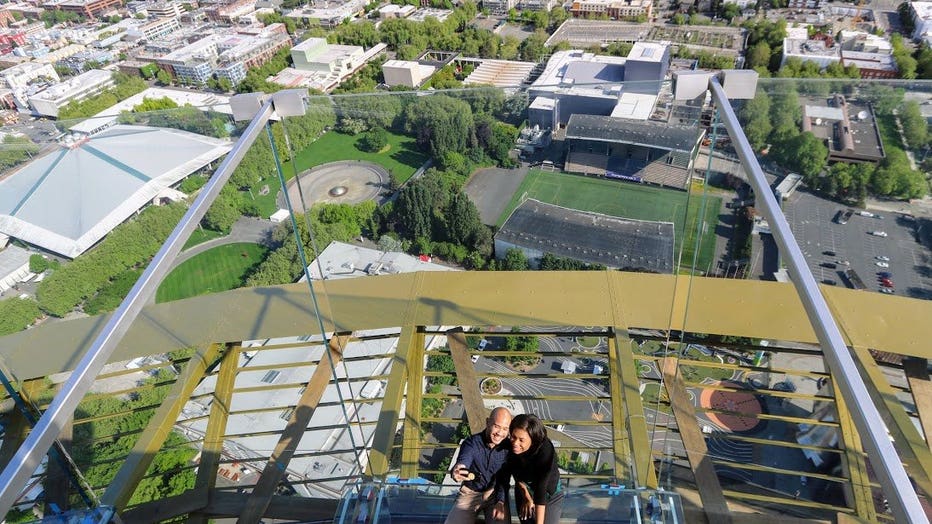 (Photo via the Space Needle)


If that's not scary enough, the wire safety cage, which went around the observation deck, has been replaced with forty-eight 11-foot high glass walls creating a floor-to-ceiling glass viewing experience.

And for taking the "ultimate Seattle Selfie."

"My family and I took an amazing photo on one of the Skyrisers. The glass draws in a ton of natural light and opens up the view—it's a breathtaking experience," said visitor Kathrine Chin from Honolulu, Hawaii.

Ten out of the 24 Skyrisers will be open to the public Memorial Day weekend.

Space Needle officials say about 80% of the upper observation level and open-air observation deck will also be completed.

The full two-level experience including the world's first rotating glass floor will be revealed by the 4th of July weekend.

The Space Needle's Century Project is focused on preservation and renovation all while expanding and improving the Space Needle's iconic views and guest experience.