Flag flown at half-staff on lone standing cedar; crews face hazards


DARRINGTON, Wash. --  Among the devastation and debris, the search continues for victims of the Oso slide.

On Tuesday, the media were escorted to the new makeshift road connecting Oso to Darrington. It showed a wide view, looking back at the hillside that broke away, rushed down and buried an entire neighborhood in mud.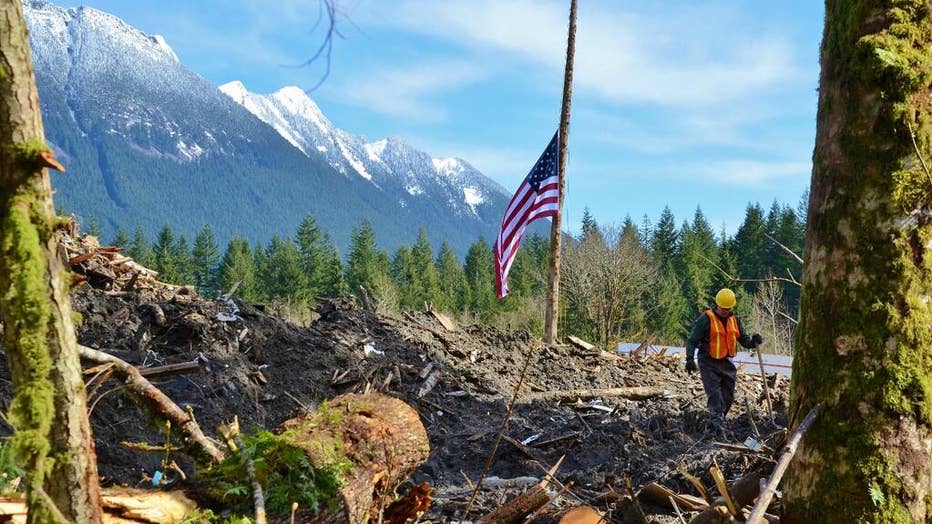 Maintaining morale and keeping hopes high amid the devastation. A U.S. flag on a remaining cedar. (Photo: Washington National Guard)


Eleven days in and crews still have their work cut out for them. They aren't just searching over the tops of the slide, they are now digging down, as much as 60 feet, to find victims.

"There's a strong possibility some of these people will never be recovered," said detective Ed Troyer of the Pierce County Sheriff's Department, one of many public safety workers from all over the state pitching in.

Personal belongings and photos are collected in white tents on the slide, to be cleaned and eventually returned to family members. The sun is helping to dry out the site, but there are still dangers there. The slide area is a toxic soup of broken septic systems, gasoline, oil and other hazardous materials.

All of that is sitting on the surface, so all of these people who are out here searching, they are all standing in hazardous materials," said Lt. Richard Burke, with Bellevue Fire.

The Army is helping crews decontaminate as they come off site.

As volunteer loggers continue to move huge trees crushed in the slide,  one lone cedar that survived has been converted to a flag pole. The American flag is at half-staff to honor the victims, but also show the strength of the community.