Fire near Los Angeles: 30% contained as forward march stopped


By Louis Sahagun, Kate Mather and Soumya Karlamangla

Los Angeles Times

LOS ANGLES -- Firefighters battling the Colby fire burning near Glendora, northeast of Los Angeles, made headway Thursday afternoon, stopping the march of the fire toward hillside homes. Fire officials announced at their 4:30 p.m. briefing that the fire is 30% contained.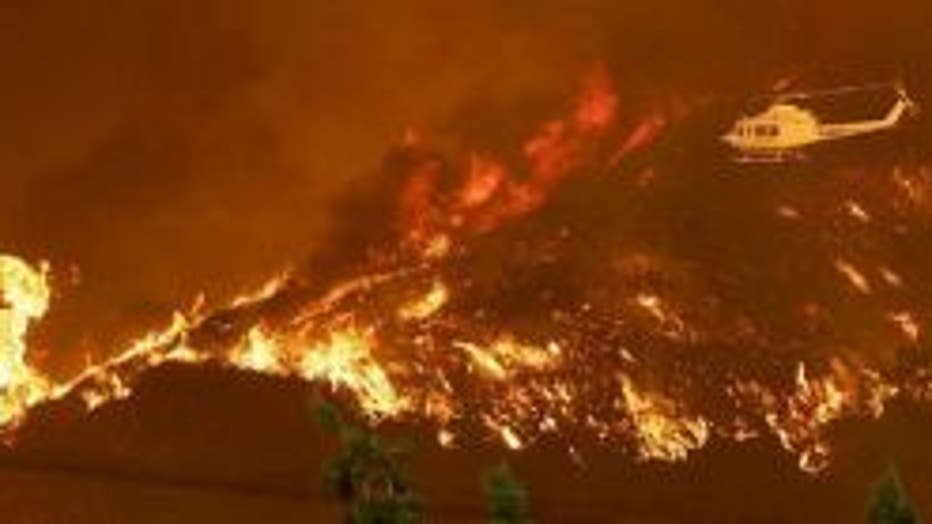 A helicopter helps battle the Colby fire that broke out near Glendora on the edge of the Angeles National Forest. (Irfan Khan / L.A. Times)


In all, 1,700 acres have burned — the same acreage as several hours earlier. Five homes have been destroyed and 17 additional structures were damaged.

"The forward spread of the fire has stopped," Los Angeles County Fire Chief John Tripp said, adding that the hazard to the community is subsiding.

Fire officials said the weather was cooperating and strong afternoon winds did not materialize as feared. Three people, including two firefighters, suffered minor injuries in the blaze.

He said it appeared that firefighters finally had the upper hand.

"We've got good, solid containment around most of the neighborhoods," Tripp said, adding that firefighters would remain in the neighborhoods throughout the night to watch for hot spots or flareups.

Although some mandatory evacuations will remain in place, Glendora Police Chief Tim Staab said most Glendora residents will be allowed to return to their homes at 6 p.m. Glendora Mountain Road will also reopen.

The men accused of accidentally sparking the fire could face federal charges because the blaze was believed to have been sparked on federal land, a police official said.

The three men arrested on suspicion of recklessly starting the fire were identified as Clifford Eugene Henry, 22, of Glendora; Jonathan Carl Jarrell, 23, of Irwindale; and Steven Robert Aguirre, 21, a Los Angeles transient.

Staab said the men started a fire near Colby Trail and Glendora Mountain Road early Thursday because they were cold. They were allegedly tossing paper into the fire when a gust of wind "just blew embers all over the place," Staab said.

The chief said there was "absolutely no evidence that these three men started the fire on purpose."

Some evacuees gathered Thursday afternoon at Glendora High School, where the Red Cross had converted the gym into a disaster shelter.

From the campus, those displaced by the fire could see the mountains and the smoke plumes from the fire that burned their homes.