Fire Dept.: Natural gas leak was cause of north Seattle explosion; damage estimated at $3M


SEATTLE, Wash. -- The Seattle Fire Department said its investigators have determined a natural gas leak on the exterior of a building caused the massive explosion early Wednesday that obliterated at least one building and damaged many others. Nine firefighters were treated and released for minor injuries.

The Fire Department said Wednesday afternoon:

"Seattle Fire Investigators have determined that the early morning explosion and resulting fire in Greenwood were accidental and caused by a natural gas leak on the exterior of the building.

"Three businesses located in the building shared common walls and were leveled by the blast: Quick Stop Grocery at 8409 Greenwood Avenue North, Mr. Gyros at 8411 Greenwood Avenue North, and Neptune Coffee at 8415 Greenwood Avenue North.

"Natural gas levels  accumulated in the interior of the building to the extent that they ignited. Investigators were not able to pinpoint the source of ignition inside the structure.

"The total damage to the building is estimated at three million dollars," it concluded.






Seattle Mayor Ed Murray called the blast a "devastating disaster" for the business district.




"It's going to take a lot of work to help these businesses become vibrant and vital again, but we are committed to that as a city," he told reporters.

"Thank God, no one was seriously injured, and hopefully, at least as far as we can tell, no one was killed here," Murray said Wednesday afternoon.

Seattle Fire Department officials said crews responded at 1:04 a.m. to the area of N. 85th St. and Greenwood Ave. N. for reports of a gas leak.

They were there, trying to "detect and determine where that gas was coming from," when the explosion occurred shortly before 1:45 a.m. Flying glass and debris from the explosion injured eight firefighters and a battalion chief.

"We know, as firefighters, that this is a very dangerous job, and these things can happen from time to time," Seattle Fire Chief Harold Scoggins said. "They did all the things they needed to do to take care of business."

The explosion blew out windows in businesses and storefronts in the surrounding blocks.

Investigators are still trying to pinpoint the source of the leak, officials said Wednesday afternoon. Seattle Fire Department investigators are working with Seattle Police Arson Bomb Unit and Puget Sound Energy.

Neptune Coffee was completely destroyed. Witnesses say Mr. Gyros and the Quick Mart nearby also suffered extensive damage, along with parked cars nearby.




Nine firefighters were transported to Harborview for minor injuries. By 8 a.m. all of them had been treated and released. A Harborview Medical Center spokesperson said they were treated for cuts, burns and abrasions.

Authorities also brought in search dogs to make sure there were no other victims.




"My thoughts are with the Seattle firefighters injured from last night's explosion in Greenwood and I wish them a quick recovery. These men and women risked their lives this morning, as they do every day, to keep our community safe. I am grateful for their service and all of our first responders," said Seattle Mayor Ed Murray.

PHOTOS: Aerial photos show aftermath of blast in Seattle's Greenwood neighborhood >>

The Pacific Northwest Seismic Network said the explosion registered on their equipment.




'Debris just coming down from the sky'

A Q13 News photographer was on scene when the explosion happened. He described the aftermath of the explosion as a war zone and said glass was raining down. Fortunately, he is okay.

"The whole building, it just exploded," said Bryan Howard, Q13 News photojournalist. "I took off running but when I turned back around, there was debris just coming down from the sky... I remember ... a giant fireball going up into the air."




The fire was officially extinguished as of around 10:30 a.m., according to the Seattle Fire Department, leaving a lot of charred rubble behind.

About 3 hours before then, gas had finally been shut off in and around the explosion site, Puget Sound Energy reported. Utility crews had to drill holes into the pavement to access cutoff valves.

The long drilling process meant that for about six hours, firefighters had to put water on the fire from the edge of the rubble left by the explosion. Because of still-leaking gas, they couldn't go into the area where the explosion had occurred.

Seventy firefighters responded to the scene. The department said crews would remain at the scene all day on fire watch.




King County Metro said bus routes were affected and posted more information online.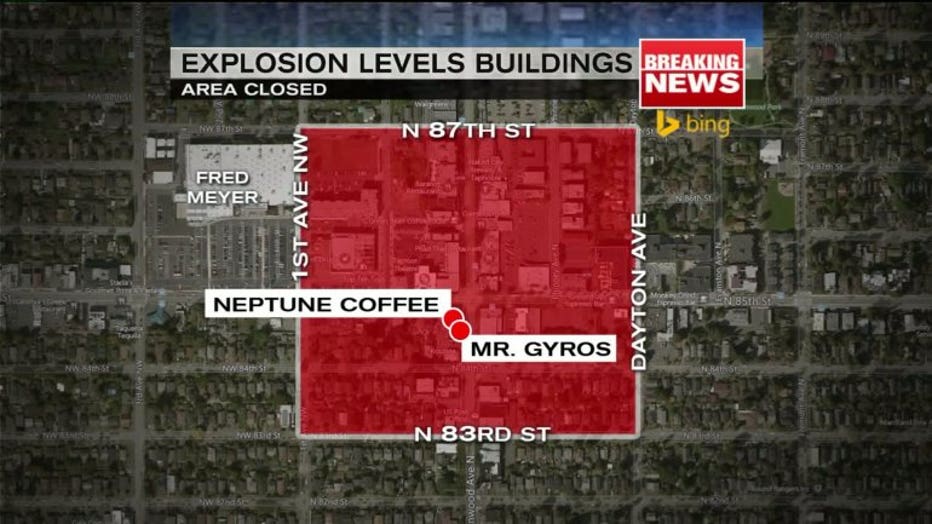 About six months ago, a gas leak caused a blast that injured one person and brought down part of a Motel 6 in Bremerton. Surveillance video captured that blast on camera.

This story is developing and will be updated throughout the morning as we learn more.