Fire damages 3 homes, displaces 10 in Queen Anne; officials say fire was intentionally set


SEATTLE -- A fire severely damaged one home and spread to two others in Seattle's Queen Anne neighborhood Monday night before firefighters put out the blaze. No one was seriously injured, but 10 residents were displaced, authorities said.

Tuesday morning, investigators said the fire was intentionally set. The Seattle Police Department's Arson and Bomb Squad is investigating, and are trying to determine if the fire was the work of arson.

The fire was first reported at 8:15 p.m., and arriving firefighters found a two-story home at 714 Warren Ave N. ablaze, said Fire Department spokesman Kyle Moore. He added that the flames appeared to be coming from the basement and then had spread to two other houses.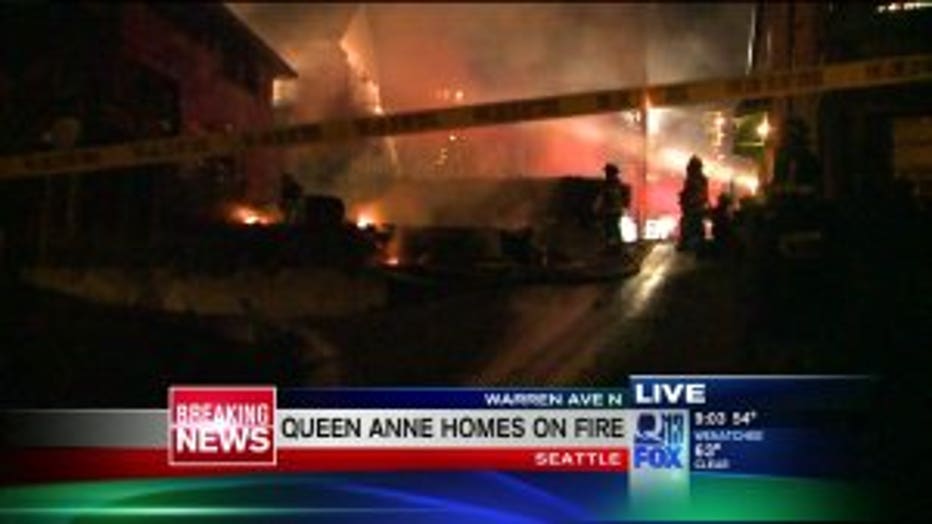 It took firefighters about 45 minutes to get control of the fire. The home that first caught fire suffered serious damage and appears to be a total loss, Moore said. The damage to the home was estimated to be $500,000. The other two homes suffered less damage and the damage was estimated to be $30,000 for each home.

Moore said one person hurt his ankle running out of his house and a bystander slightly hurt a hand while trying to help put out the initial fire.

It appeared the fire started in the back of the first house and moved forward. Officials said there were multiple combustibles inside the garage that caught fire, including an old Christmas tree and other materials.