Fire at Tacoma retirement complex temporarily displaces nearly 150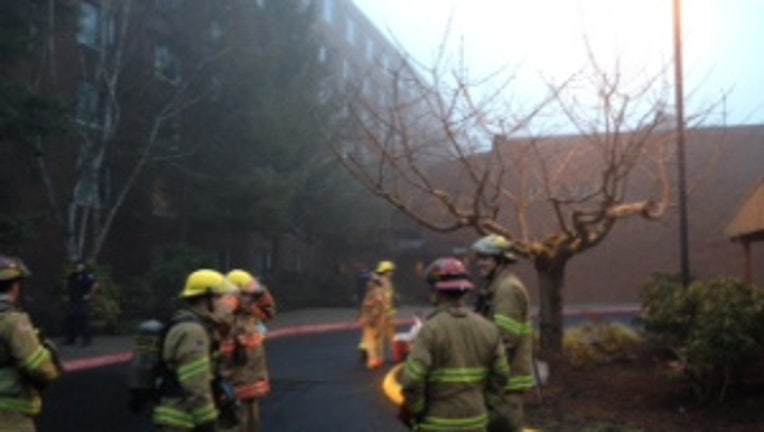 article
By Kate Burgess

Q13 FOX News reporter

TACOMA -- Nearly 150 people were displaced Tuesday after a two-alarm fire broke out at the Life Manor retirement community in Tacoma. Twelve residents were taken to the hospital for smoke inhalation, but most were treated and quickly released.

Tacoma firefighters were called to Life Manor at 1601 S. Union Ave.  just after 6 a.m. Tuesday due to a fire alarm that had been activated. When they arrived, crews found heavy flames and a large amount of smoke coming from a dining room next to the facility.



Everyone was evacuated.

The dining area connects to the apartments through a breezeway, and the fire door closed, which prevented the flames from spreading. It soon became clear to the fire crews that smoke was the biggest danger.

"Prior to it closing, a lot of smoke got into the building, so we had a lot of people complaining of smoke, complaining of respiratory problems," said the Tacoma Fire Department's battalion chief.

"The first floor was pretty smoky, so I started beating on doors trying to get people out," said resident Earl Brown.

A firefighter pulled asthma sufferer Leila Bales from her room where, she says, she was suffocating.

"I've never been in anything so horrifying in my life," Bales said.

Most of the residents who were evacuated said they would be staying with relatives or friends. Just over a dozen people are being placed in other retirement communities for the next few days, as crews clean up the smoke damage to their homes.

Preliminary findings indicate that the fire appears to have been caused by an electrical malfunction in a room next to the dining room.