Fire at condominium building south of Everett kills dog, displaces 16 residents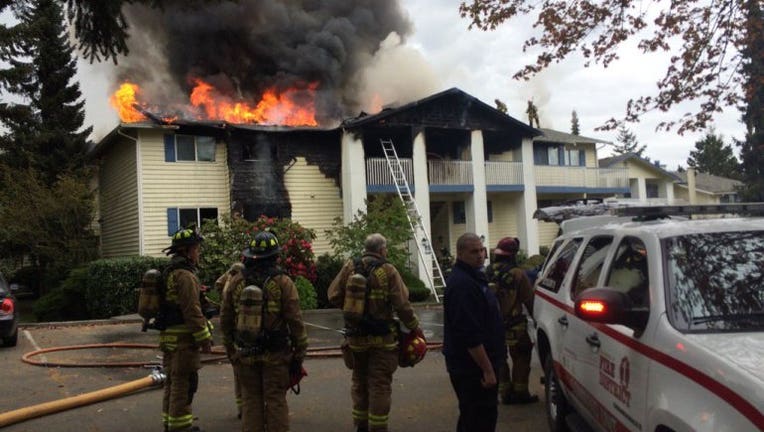 SNOHOMISH COUNTY, Wash. --A three-alarm fire at a condominium complex south of Everett Friday afternoon caused more than $400,000 damage and displaced 16 residents, Snohomish Fire District 1 said.

The fire was reported around 1:30 p.m. at the Homestead Condominiums in the 12900 block of 8th Avenue West in unincorporated Snohomish County.

"Occupants in a second-floor condominium unit called 911 after a smoke alarm alerted them to the fire," said Leslie Hynes, public information officer for Snohomish County Fire District 1. "An 8-year-old boy and his 14-year-old sister and her 14-year-old friend safely exited the unit."

Other occupants in the 15-unit, three-story building safely evacuated. There were no injuries, but a dog died in the fire.




Flames had already extended from the second-floor unit, where the fire started, to the unit above and through the roof when the first firefighters arrived from the nearby Mariner Fire Station 11. Firefighters from Fire Districts 1 and 7, Everett, Lynnwood and Mukilteo responded. At the peak of the fire, more than 60 firefighters were on the scene.

"Crews made an initial attack inside the building, but had to pull out and fight the fire from the outside after the roof became unstable," Hynes said. "It took about 40 minutes to knock down the fire."

The fire left six units uninhabitable. "Four units had fire and smoke damage and the two ground-floor units sustained water damage," Hynes said.

Cause of the fire is under investigation.