Female DNA found on bomb fragment
BOSTON -- President Barack Obama is defending the FBI's handling of a 2011 request by Russian authorities to investigate Tamerlan Tsarnaev, one of the two brothers accused of bombing the Boston Marathon.
Some critics have questioned whether the agency did enough to investigate Russian reports of growing extremism in Tsarnaev, who died April 19 after a firefight with police, four days after the bombings.
But at a White House news conference Tuesday Obama said "it's not as if the FBI did nothing."
"They not only investigated the older brother, they interviewed the older brother," the president said. "They concluded that there were no signs that he was engaging in extremist activity."
Meanwhile, investigators were trying to find the source of a woman's DNA found on a fragment of one of the pressure cooker bombs used in the bombings, law enforcement sources told CNN.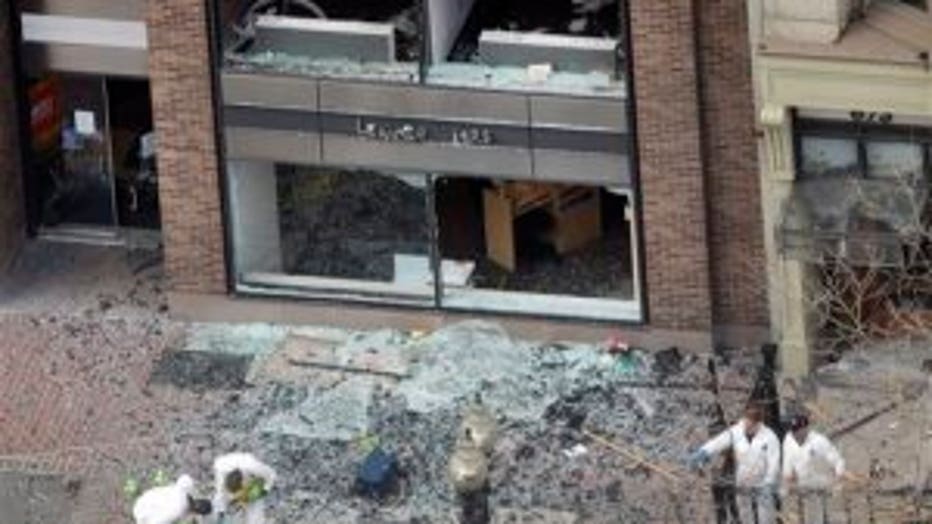 Men in hazardous materials suits investigate the scene at the first bombing site on Boylston Street in Boston. (Elise Amendola / Los Angeles Times, April 16, 2013)
But, they cautioned, that doesn't necessarily mean a woman might have conspired with brothers Tamerlan and Dzhokhar Tsarnaev, who authorities say were behind the April 15 attack that killed three and injured more than 260. The brothers also allegedly killed a police officer.
Twenty people remained hospitalized Tuesday, according to a CNN tally.
For more on this CNN story, click here.