Feed killer whales? Bill hopes to help struggling orca population
OLYMPIA -- Lawmakers are scrambling to help endangered killer whales in the Puget Sound.

There are dozens of proposed bills in the 2018 Legislative session that relate to orcas and their favorite food, salmon.

One state Democrat thinks he has a plan to solve what many consider to be the Southern Resident killer whales' biggest threat: the dwindling Chinook salmon population.

Representative Brian Blake, D- Long Beach, has introduced a bill that would increase Chinook hatchery salmon production by 10 million fish a year. The bill would up juvenile fish numbers at state-operated Kalama Falls, Beaver Creek, Naselle, Humptulips, Skookumchuck and Lake Aberdeen hatcheries.

Blake decided to draft the bill, which has bi-partisan support, after recent reports of continued Orca population loss. State hatcheries have enough capacity, he said, and could easily manage more fish.

"We need to increase production," Blake said.

Along with helping feed orcas, increased salmon hatchery production would help struggling sport fisherman. Blake said for too long boat launches in Long Beach and along the coast have sat empty as sport fishing seasons have produced little result.

"Of course one of the ancillary benefits is our fisherman will also have access to these fish," Blake said.

But the bill, if inacted, may have unintended consequences.  Opponents say it could hurt the already struggling native wild Chinook salmon population.

Hatchery fish compete with wild fish for food and habitat, and hatchery production have decreased over the past 10 years in an effort to increase wild fish populations.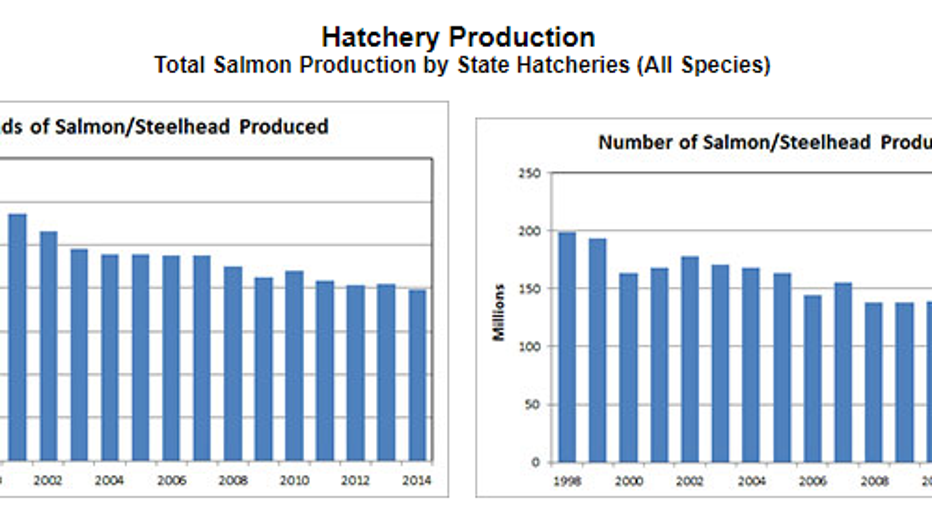 Blake said he recognizes the need to maintain a stable native population. But since hatchery numbers have decreased and wild populations haven't rebounded, it's time to take a different approach. And he believes hatcheries can bump up production while keeping wild salmon populations.

"There are basins on the coast that don't have endangered species," Blake said.

The bill is scheduled for a hearing in the House Committee on Agriculture and Natural Resources at 10 a.m. Jan. 16.