Feds charge 2 men in sexual assaults on Sea-Tac bound planes


SEATTLE -- Authorities arrested two men accused in separate incidents of sexual assault on flights headed to Seattle-Tacoma International Airport.

"The crimes we have charged are disturbing. In one case, the victim was essentially trapped against the wall of the plane as she was repeatedly groped by the passenger who was in the seat next to her," said U.S. Attorney Annette L. Hayes. "In the other case, the victim spent several hours on a long haul flight trying to push back the perpetrator only to wake up in the middle of a sexual assault."

The Department of Justice gave the following account of the two cases:

"According to records filed in the case, REZAPOUR is accused of sexually assaulting another passenger while she slept on a Norwegian Air flight from London to Seattle on January 10, 2018.  The victim had taken a prescribed anti-anxiety medication and drank a glass of wine.  The victim then accepted a second glass of wine purchased for her by REZAPOUR.  After drinking the second glass, the victim became unusually sleepy.  She awoke to find REZAPOUR sexually assaulting her.  REZAPOUR used his jacket to shield the activity from other passengers.  The victim fled to the back of the plane and reported the assault to flight attendants.

"In the second incident, STEVENS assaulted a victim on an Alaska Airlines flight from Anchorage to Seattle.  STEVENS was originally in an aisle seat with a vacant seat between him and the victim.  STEVENS moved into the middle seat and began harassing the victim with personal questions and attempting to hold her hand, and rest his head on her shoulder.  At various times, while pretending to be asleep, he grabbed her thigh and her breast.  Another passenger assisted the victim with getting away from STEVENS when the flight arrived in Seattle.  She and another passenger encouraged the victim to report the assault to law enforcement.  The victim contacted an Alaska employee who immediately contacted Port of Seattle Police."

Babak Rezapour, a 41-year-old Van Nuys, Calif. man, will appear Thursday in U.S. District Court in Los Angeles.

Nicholas Matthew Stevens, a 37-year-old Anchorage, Alaska man, is scheduled to appear Friday in U.S. District Court in Anchorage.

Hayes said both suspects will appear in a Seattle courtroom at a later date.

The arrests come as the FBI is highlighting a campaign to educate the public about the need to report sexual assaults on airplanes.

"Reports of sexual assaults on aircraft are increasing, and we want the public to know these assaults are federal crimes and will be investigated and prosecuted consistent with the law," said Hayes.  "We urge the flying public to report assaults to airline personnel and law enforcement and assist victims who need help. The skies will be safer for all of us."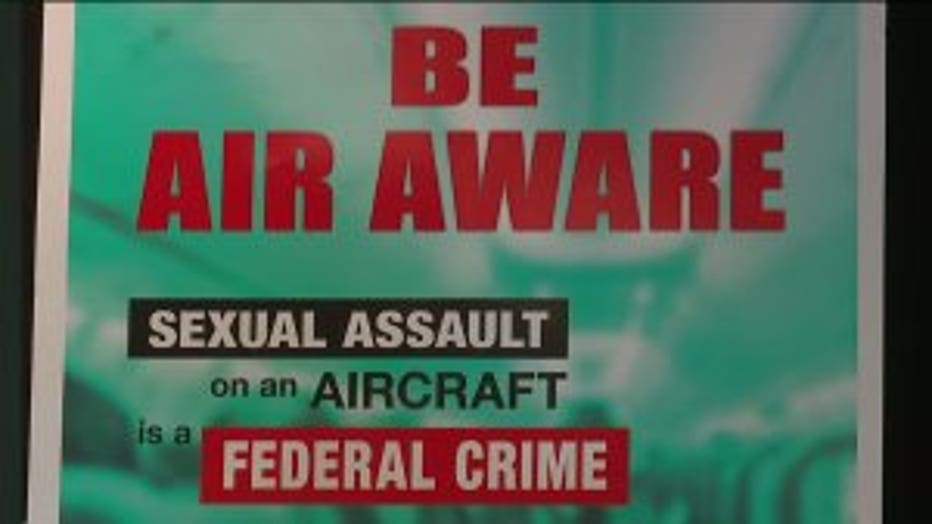 A charge of abusive sexual contact on an aircraft is punishable by up to two years in prison.

"These arrests demonstrate the consequences for those who commit the federal crime of sexual assault aboard an aircraft," said Special Agent in Charge Jay S. Tabb, Jr., of the FBI's Seattle Field Office. "The FBI investigates reports of these incidents and urges victims to contact us so that we may hold accountable the individuals responsible."

Police stressed that passenger and employee safety is a priority at Sea-Tac.

"The Port of Seattle police department is here to ensure that Sea-Tac Airport is a safe and welcoming place," said Mike Villa, Deputy Chief, Port of Seattle Police Department. "Sexual assault on a flight is a federal crime and we work with federal prosecutors to bring perpetrators to justice. If you feel that you are the victim of a crime, let the flight crew know or call 911 the moment you land anywhere in the country.  If you land at our airport, a Port of Seattle Police Officer will be there to help you the moment you get off the plane."