Feds block route of Dakota Access pipeline in North Dakota
CANNON BALL, N.D.  — U.S. Army Corps of Engineers says it won't grant an easement for the Dakota Access oil pipeline in southern North Dakota.

Corps spokeswoman Moria Kelley said in a news release Sunday that the administration will not allow the four-state, $3.8 billion pipeline to be built under Lake Oahe, a Missouri River reservoir where construction had been on hold.

Assistant Secretary for Civil Works Jo-Ellen Darcy said her decision was based on the need to "explore alternate routes" for the pipeline's crossing.

The route has been the subject of months of protests by the Standing Rock Sioux tribe and others, who have argued the pipeline threatens a water source and cultural sites.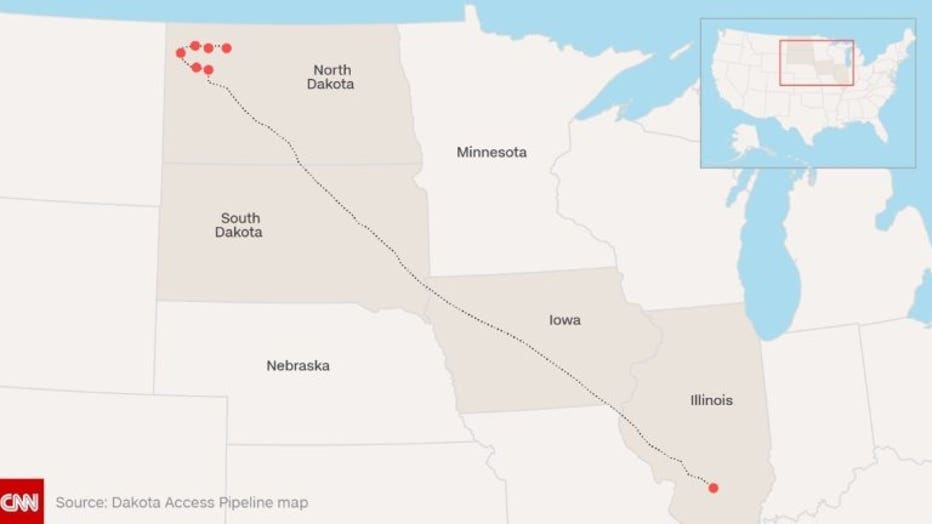 The underground Dakota Access Pipeline would transport 470,000 barrels of crude oil a day, which would be sent to markets and refineries in the Midwest, East Coast, and Gulf Coast regions, according to Energy Transfer Crude Oil Co.


The reaction

"The Army Corps has made the decision that the Standing Rock Sioux community and all of Indian Country has called for," said Swinomish Indian Community Chairman and National Congress of American Indians President Brian Cladoosby.

"This decision will ensure that impacts on drinking water from a pipeline that we know will fail at some point and on tribal treaty rights will be adequately considered. We thank the Obama Administration for once again demonstrating its commitment to respect for tribal sovereignty and a true government to government relationship.

My hands go up to all the water protectors who have stood up to protect tribal treaty rights and to protect Mother Earth. Thank you for Standing For Standing Rock."

North Dakota Gov. Jack Dalrymple said in a statement that the Corps' decision "is a serious mistake," "prolongs the serious problems" that law enforcement faces and "prolongs the dangerous situation" of people camping in cold, snowy conditions.

North Dakota Republican Rep. Kevin Cramer says the Army Corps' decision is "a very chilling signal" for the future of infrastructure in the U.S.

Cramer said in a statement that infrastructure will be hard to build "when criminal behavior is rewarded this way," apparently referring to the large protest encampment on federal land and the clashes between demonstrators and law enforcement.

Cramer also said that "law and order" will be restored when Donald Trump takes office and that he feels bad for the Corps having to do "diligent work ... only to have their Commander-in-Chief throw them under the bus."

The company constructing the pipeline, Dallas-based Energy Transfer Partners, and the Morton County Sheriff's Office didn't have an immediate comment.

The protesters

The federal government has ordered people to leave the main encampment, which is on Army Corps of Engineers' land and is close to the construction site, by Monday.

Demonstrators say they're prepared to stay, and federal, state and local authorities say they won't forcibly remove the protesters.

U.S. Attorney General Loretta Lynch says that the Department of Justice will still monitor the protest in North Dakota and is ready to "provide resources" for those who "can play a constructive role in easing tensions."

Lynch said in a statement that the safety of those in the area, including officers, residents, and protesters, "continues to be our foremost concern."