Federal officials assure mudslide victims they'll get assistance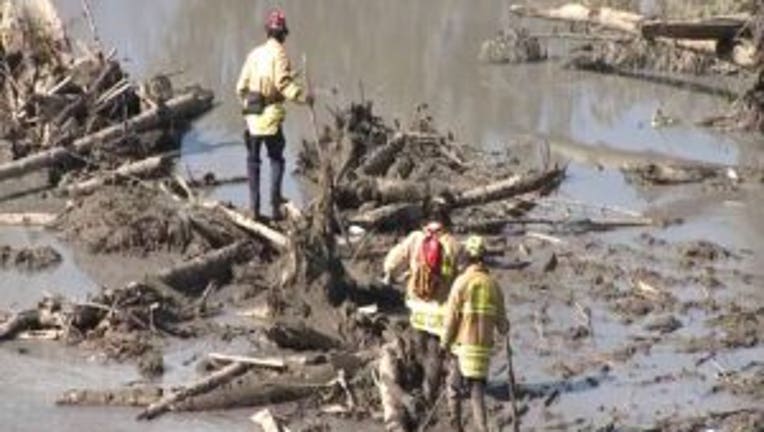 article
ARLINGTON - Federal responders have been helping with the Oso mudslide search effort for a couple weeks. But today, the Secretary of Homeland Security and FEMA Administrator saw the disaster site with their own eyes, touring the devastation with local leaders and talking to those working on the ground.

"In the face of a situation like this, we struggle for the words to console people," says Secretary Jeh Johnson. "But we do the best we can to support them, to help them get through the disaster."

Secretary Johnson says he's been impressed by the number of volunteers from the local community, who have been working side by side with rescue crews from around the country.

"The mudslide is an enormous tragedy. The response to it is an inspirational American story."

But the search effort is slow-going.

There are hundreds of acres of land on the east side of the slide that were flooded by the Stillaguamish River. Tomorrow, the US Army Corps of Engineers will begin building a temporary berm to stop the flow of water there.

"The request has come from responders that this is an area they would like to have us dry out," says Owen Carter with Snohomish County Public Works.

"Searchers have been able to do what they're able to from boats," adds Meg Matthews with the Arlington Joint Information Center. "Part of the purpose of this is to allow them and the dogs to be able on the ground in a way that's safer. "

Crews have reason to believe some of the missing may be in the area that's currently underwater. So engineers are hoping they can complete the berm in about a week, and give them better access.

They did not want to talk about how much construction of the berm would cost. They say doing everything they can to recover the victims and help the families affected is all that matters. Federal officials agree.

"We were here shortly after the disaster occurred, we're here now, and we'll be here as long as the recovery effort goes on," says Secretary Johnson.

He says now that the president has approved a major disaster declaration, the federal government can provide grants for housing and loans to cover uninsured property loss.

He says those affected by the slide need to register with FEMA as soon as possible to get that assistance.  They can visit www.DisasterAssistance.gov, or call 1-800-621-FEMA (3362).