Federal investigators say derailed train was going 80 mph in a 30 mph zone


SEATAC, Wash. -- The National Transportation Safety Board said late Monday night that the Amtrak train that derailed over I-5 in DuPont, killing at least three people, was traveling at 80 mph in a 30 mph zone.

Bella Dinh-Zarr, an NTSB board member, said at a Monday night news conference that information from the event data recorder in the rear locomotive provided information about the train's speed. Authorities say at least three people were killed and dozens injured when the train derailed early Monday morning, spilling train cars onto a busy interstate.

Dinh-Zarr says it's not yet known what caused the train to derail and that "it's too early to tell" why it was going so fast.

Federal investigators will be on the scene Tuesday.

She said NTSB officers would be interviewing the engineer in the next day or so.




The train derailed about 40 miles south of Seattle at 7:34 a.m. Monday, above a busy stretch of I-5 between Joint Base Lewis-McChord and Olympia. Some of the train's cars fell onto the southbound lanes of Interstate 5 and hit vehicles. The people in the vehicles were not among the dead, Pierce County sheriff's spokesman Ed Troyer said.

At a Monday night briefing, the Washington State Patrol said 19 uninjured passengers were transported to the city of DuPont to be reunited with their families and 72 other people were transported to various hospitals for evaluation. Of those, State Patrol Sgt. Dan Hall said, 10 were in serious condition, four had moderate injuries and nine had minor injuries.

All but one of the 14 rail cars came off the tracks, according to Washington State Patrol Trooper Brooke Bova. The train fell from the overpass onto five cars and two semi trucks below on I-5.

Local blood centers were asking for donations, but the need was quickly met by dozens of local volunteers.

Southbound I-5 in DuPont was to remain closed through at least Tuesday morning, according to WSDOT. Traffic was being detoured to SR 16 north, then south on SR 3 to Shelton.

A U.S. official who was briefed on the investigation told The Associated Press preliminary signs indicate the Amtrak train may have struck something before going off the tracks. An Amtrak train also derailed in nearby Steilacoom in July.

But at her news briefing at Sea-Tac International Airport late Monday night, NTSB board memberDinh-Zarr said it was too early to determine if anything had been on the track.

The Pierce County Sheriff's Department released these new photos of some of the damage.



A frantic call for help

Emergency radio transmissions between the train and the dispatcher were frantic and dramatic:

Dispatcher: Hey guys, what happened?

AMTRAK 501: Uh, we were coming around the corner to take the bridge over I-5 there, right north into Nisqually and we went on the ground.

Dispatcher: ...Is everybody OK?

AMTRAK 501: I'm still figuring that out. We got cars everywhere and down onto the highway.

'Cars ... are hanging over the overpass'
A new route

Transitdocs.com, a website that maps Amtrak train locations and speeds using data from the railroad's train tracker app, says Train 501 was going 81.1 mph at its last reading before the derailment.

Sound Transit said the speed limit along the curve approaching the overpass  is 30 mph.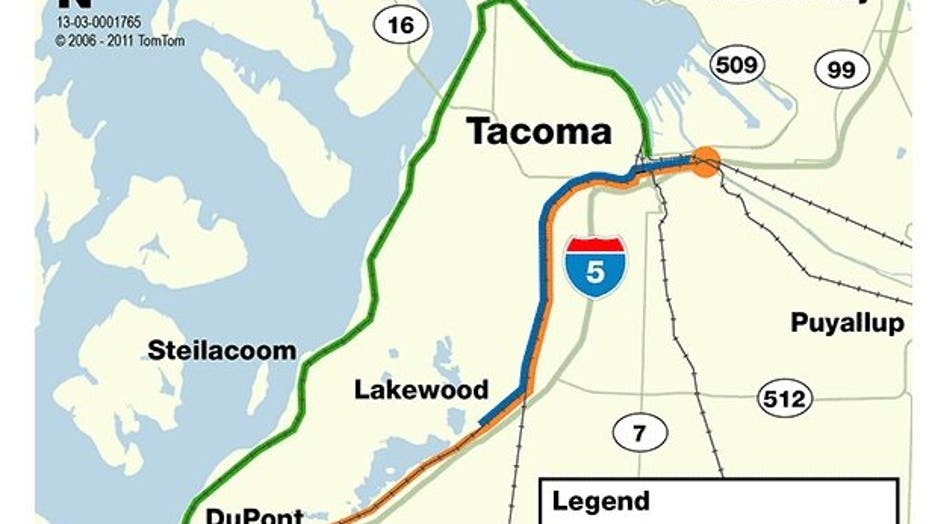 On the map above, orange indicates the bypass, while green is the BNSF route along Puget Sound used by Amtrak Cascades trains through Dec. 17, 2017. Service via the bypass began on Dec. 18, 2017. The derailment of Train 501 occurred near the southern


The new route was designed to speed up service by removing passenger trains from a route along Puget Sound that's bogged down by curves, single-track tunnels and freight traffic.

The mayor of Lakewood, which is situated along the route, predicted a deadly crash. But Don Anderson thought it'd involve a fast-moving train hitting a car or pedestrian at a crossing.

Images and video from the scene showed an Amtrak train car hanging partway off an overpass bridge and resting on the highway.

The train was carrying passengers - including many transportation officials - set to embark on the first run of Amtrak's new route 501 from Seattle to Portland on this new bypass. There were 80 passengers, three crew members and two engineering service members aboard.

A list of recent Amtrak derailments

Amtrak released the following statement Monday evening:

"We are deeply saddened by the loss of life and injuries due to the derailment of  Amtrak Cascades Train 501 south of Tacoma this morning.  

"Our first concern is taking care of everyone that was on board Train 501.  We have established a Passenger Reception Center to work closely with families of individuals on the train, as well as have established an Amtrak Incident Hotline. Families with questions about individuals on the train can contact 800-523-9101. We will do everything in our power to support these passengers, our employees and their families.  We are committed to taking care of them and providing the highest level of assistance possible during their time of need.

"There is a thorough investigation underway to determine what happened.  The investigation will be conducted by NTSB, and we will cooperate fully with all authorities. At this time, we will not speculate about the cause, and we encourage others not to speculate as well

"We want to extend our sincere appreciation to Washington State Patrol, Pierce County Sheriff's Office, Pierce County EMA, American Red Cross, Joint Base Lewis-McChord, and all responders and medical professionals for their assistance."
Search for loved ones

Amtrak set up a hotline for loved ones to call for more information: 800-523-9101.

Washington State Patrol Trooper Brooke Bova said a family reunification center had been set up at DuPont City Hall. Bova advised families NOT to go to the scene.

Facebook also set up a crisis response page for those in Western Washington to mark themselves safe. You can check it here.




Washington Gov. Jay Inslee declared a state of emergency.

"Today's tragic incident in Pierce County is a serious and ongoing emergency," said Gov. Jay Inslee. "Trudi and I are holding in our hearts everyone on board, and are praying for the many injured. They are our top priority, and I know first responders are doing everything to ensure everyone has the care they need."

Other Washington state politicians said they were heartbroken to hear the news.

"Following the derailment near Olympia closely," said Sen. Maria Cantwell. "Praying for everyone on board and affected by this. Thanks to our first responders."

"Heartbroken by the news coming out of WA right now," tweeted Sen. Patty Murray. "As my staff works to get more info, my thoughts are w/ everyone affected, including the 1st responders doing their best to keep people safe."