February + March rainfall breaks a record of 120 years!


SEATTLE -- A Pacific Northwest tradition continues: Staying green and cultivating mold​ and mushrooms.

After Monday's soaking rain, the remaining days of March will be drier. Surprisingly, this month will not break a rainfall record -- unless you add in February's rainfall. When you do that, the total will break a record of 120 years!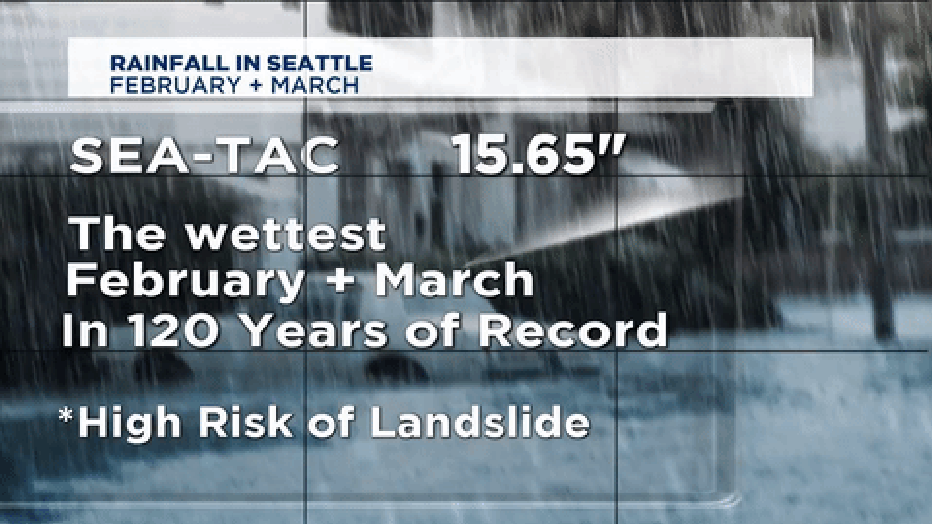 As of 5 a.m. Monday, the precipitation total at Sea-Tac is 7.14".

The wettest month of March on record will stay in the year 2014 with 9.44" -- and I'm sure we're all hoping it stays there.

February and March precipitation total, added together (as of Monday morning), is 15.65", and that ranks this year as #1 wettest February plus March!
The second all time wettest February and March was 15.55" in 2014.

Portland, Oregon has also had excessive rain and snow over the winter months. Starting with October 2016, precipitation came to 8.31" which fell 0.10" short of the record of 8.41" in 1994.

Portland maximized rain this year collecting an all-time month of February record at 10.36" of precipitation. Now March has accumulated 7.07" of precipitation which is sliding into second place to the standing record of March 2012 with 7.89". On Monday we might flop the total to number one.