FBI offers reward up to $20,000 for info on whereabouts of accused Tacoma killer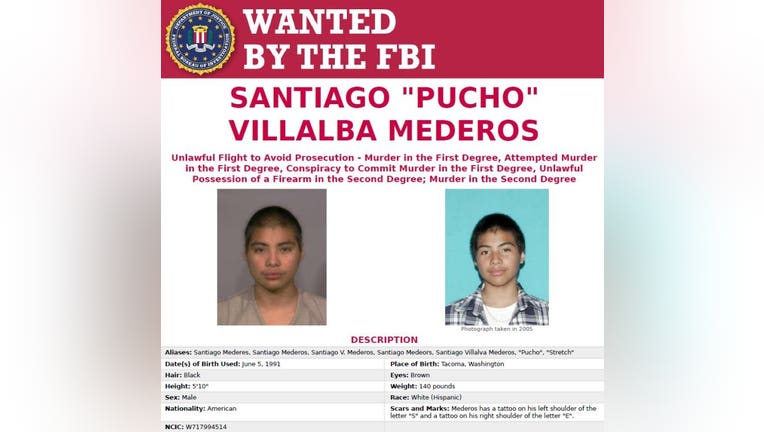 TACOMA -- The FBI and Tacoma Police Department are offering a cash reward of up to $20,000 for information leading to the arrest of a suspect wanted in two murders.

On February 7, 2010, detectives say Santiago "Pucho" Villalba Mederos was looking to retaliate against rival gang members when he encountered a brother and sister in their car, chased them and fired multiple shots into the vehicle.

The two innocent victims were not involved in gang activity and police say he targeted them solely because of the color of their vehicle. The 18-year-old girl, Camille Love, was killed and her brother Joshua seriously wounded.

"He just comes from behind us and gets in the lane next to us, speeds up to us, gets beside us and he just started shooting," Joshua told Washington's Most Wanted in 2010. "She wasn't moving. I grabbed the side of her face and I was like, Cami, Cami. She had a blank look on her face."

"The was my best friend. We were a year apart. She was my twin sister pretty much."

Mederos was also allegedly involved in the murder of another innocent person on March 25, 2010.




Prosecutors say he and other gang members went to collect money from a person they knew. According to investigators, Mederos and other gang members broke into and ransacked that person's vehicle. Several innocent bystanders observed this situation and confronted the group. A fight ensued during in which Mederos allegedly fired a single gunshot towards the bystanders, striking and killing an innocent 25-year-old man.

"These crimes that were committed, we don't forget about them and we seek justice for the victims of these homicides, so it's important for us to find them and bring them back to face the charges," said FBI Special Agent Terry Postma.

Mederos facing a slew of charges in Pierce County Superior Court including Murder in the First Degree, Attempted Murder in the First Degree, Conspiracy to Commit Murder in the First Degree​ and Murder in the 2nd Degree.

The FBI believes Mederos may be in Mexico. He speaks both English and Spanish.

Mederos is known to have family living in the Las Grutas, Guerrero and Cuernavaca, Morelos areas of Mexico and also has ties to Washington State.

On September 30, 2016, a federal arrest warrant was issued for Mederos after he was charged with unlawful flight to avoid prosecution.

"This  has been a lengthy investigation and we believe there are people in the local area who are aware of his whereabouts and we're hoping that this reward will incentivize them to come forth with the information that they have," said Special Agent Postma.

If you can help locate him, call the FBI at 206-622-0460 or Crime Stoppers of Tacoma-Pierce County at 1-800-222-TIPS.