Father and son get creative to catch suspected burglar: 'Man I screwed up'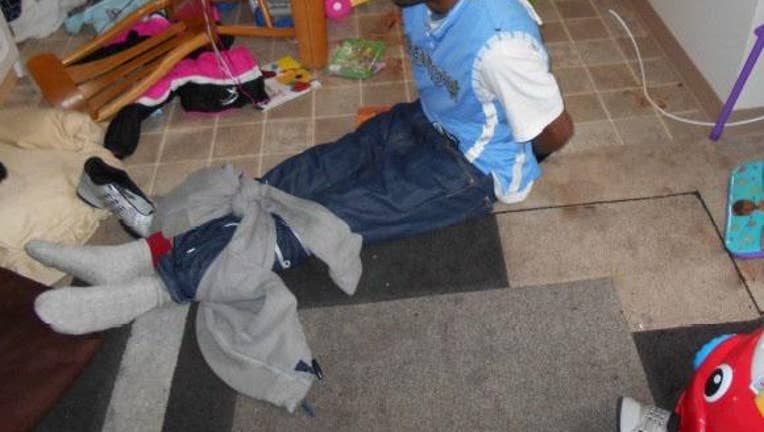 article


OLYMPIA -- A father and son used a sweatshirt and shoe laces to tie up a suspected burglar who was still inside their Olympia apartment when they returned home Friday morning.

According to Olympia police, the residents found their front door broken and the suspect still inside. The residents told police the burglar came out of a back bedroom and tried to run past them.

He reportedly said, "I'm sorry, I made a mistake and I'll get your stuff back."

The father and son tackled the suspect and used a sweatshirt to tie his legs and a shoe lace to tie his hands behind his back, according to police.

The duo shouted for neighbors to call 911. When police arrived, the suspect reportedly looked at the officers and said, "Man I screwed up."

Olympia police said the suspect ransacked the entire apartment.

"Drawers had been emptied on the floor, contents of cupboards had been thrown to the ground, and closets had been emptied. They found stacks of electronic equipment and other property from the victims' apartment in a nearby apartment complex laundry room."

Officers arrested the 37-year-old man and booked him into Thurston County Jail on residential burglary charges.

The residents were unharmed, officials said. The suspect suffered a cut on his elbow.

Police said they do not recommend confronting burglars, even though it worked out in this particular instance.

"If you find that your residence has been burglarized, don't go inside. Use a cell phone or neighbor's phone to call 911. Our officers will come investigate the burglary and check the residence and property for your safety. If you are confronted by a burglar in your residence, leave the home as fast as you can, get somewhere safe and call 911."