Father accused of shooting son, daughter; 1 dead, other in critical condition
PUYALLUP -- Police arrested a 69-year-old man after he called police and said he had shot two of his adult children, a son and daughter, early Sunday morning.

Puyallup Deputy Police Chief Dave McDonald said the man contacted them shortly before 3:30 a.m. Sunday.

"We get a 911 call from a man who said he just shot his son and daughter," McDonald said. "The dispatcher kept him on the phone because he was armed and then he was contemplating suicide."

When officers arrived at the home in the 1500 block of 5th Street SE, they said the man was despondent, but armed with a small caliber handgun that they believe he used to shoot his children.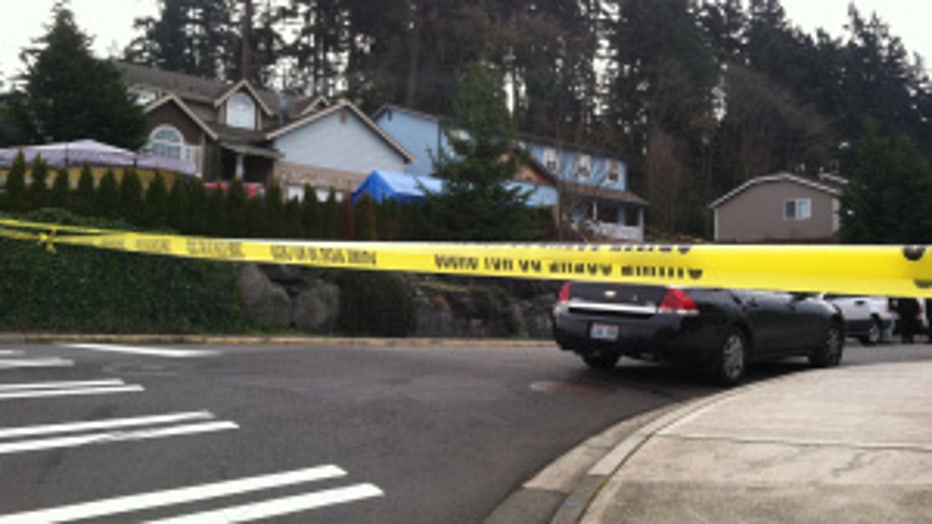 Police surrounded the home and were able to convince him to surrender.

"We didn't know what went on, but we didn't hear any gunshots. We didn't hear anything. They backed him down the driveway and arrested him in the middle of the road," neighbor Bo Nye said.

Police said there had been trouble at the family's home before, but they had never responded to a situation at the residence of this magnitude.

The suspect, his wife, the two children who were shot and two young boys all live at the home.

Police entered the home and found the two victims in separate rooms, one upstairs and one downstairs, McDonald said. The victims each had been shot in the head and police believe they were shot while they were sleeping.

"Obviously, some deep-seated family issues led to this. There's been a long history of family problems with this family and at this house," McDonald said. "We've been here numerous times with domestic violence disputes involving these parents with the children, grandchildren, adult grandchildren."

Police said there have been protection orders and possible mental health issues, but that it does not appear alcohol or drugs were involved.

When they searched the home, police also found two boys, 6 and 7 years old -- they were uninjured as was the suspect's wife. They were removed from the home; police said the male victim is the father of the children.

The victims were transported to Tacoma General Hospital. The female victim died shortly after the shooting and the male victim is in critical condition.

The boys were taken into protective custody and are in the care of Child Protective Services.

Police said the children slept through the shootings and the suspect's wife was also not aware of the shootings.

The suspect has been booked into Pierce County Jail on murder and attempted murder charges. The motive for the shootings is unknown.