Fatal pedestrian crash: Victims remembered, neighbors seethe


SEATTLE -- It started with one vase of flowers at the corner of NE 75th Street and 33rd Avenue NE Tuesday morning, and quickly began to grow.

Theodora Fanning, a student at nearby  Eckstein Middle School, said she "just wanted to offer my condolences."

Throughout the day Tuesday, people paid respects at what is now a tragic scene.

Dennis Schulte and his wife, Judy, were crossing the street with their daughter-in-law, Karina Ulriksen-Schulte, and their 10-day-old grandson, Elias, when they were hit by a driver who police say was drunk.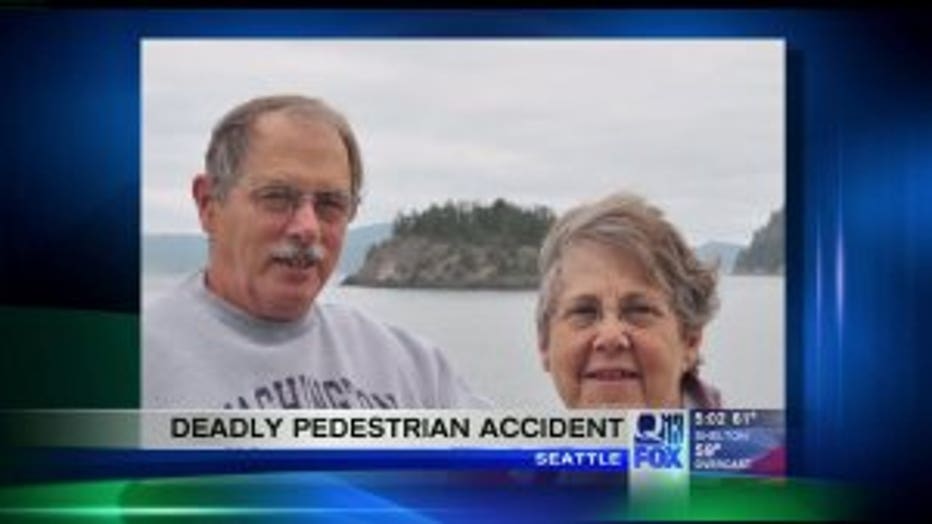 Ulriksen-Schulte and Elias were rushed to the hospital in critical condition. The Schultes were killed instantly. They had recently celebrated their 40th wedding anniversary and had just moved from Indiana to Seattle to help raise their grandchild.

"They just retired and moved out there to be with family," said Dennis Schulte's former student, Michael Fletcher. "They were starting a  second life."

And while the flowers were laid down at the scene as an offering of condolences, there was also a lot of anger growing in the Wedgwood neighborhood where Monday's accident happened.

"We've always dealt with it, but now there's uproar," said Alice Marriot, one of the neighbors who have complained for years that there should be a marked crosswalk with lights at the intersection along 75th Street, especially with a middle school just a few feet away. "Whether or not that man was under the influence, this could have happened to anybody because this is a blind corner and people go too fast out of habit."

The Seattle Department of Transportation has heard the complaints, and had crews on the scene Tuesday studying the intersection. A representative was studying the accident scene, but made no guarantees that there will be changes.

Mike Morris-Lent, with SDOT, said, "You want to make sure that any changes made give real value, that they don't just look good, but they actually work."

Frank Fulton,  a father of a seventh-grade student at Eckstein Middle School, and heavily involved with a program that teaches kids to ride their bikes safely in this busy neighborhood, said SDOT can expect a lot more pressure in the coming months.

"Traffic engineering at that intersection is a real passion, and a real problem," said Fulton.

The neighborhood will be holding a meeting on the intersection next week.

Neighbors have also organized two funds for the victims of the crash:

According to the Ravenna Blog, memorial and medical funds have been set up for the victims:

Donations may be made to the HomeStreet Bank, Wedgwood Branch.

Karina & Elias Ulriksen-Schulte Medical Fund (the mother and baby)
Account: 5322733430
Routing #: 325084426

Dennis & Judy Schulte Memorial Fund (the grandparents)
Account: 5388871396
Routing #: 325084426

Additionally, a link will soon be added to the bank branch's website, here. For more information on making a deposit, you can also call this branch directly at 206-525-2840 or 800-537-8333.