Fast food workers crisscross Seattle protesting for higher minimum wage


SEATTLE-  About 30 fast food workers and their supporters spent Thursday morning protesting outside of the McDonald's on Seattle's First Hill as part of daylong "Boycott McPoverty" protests.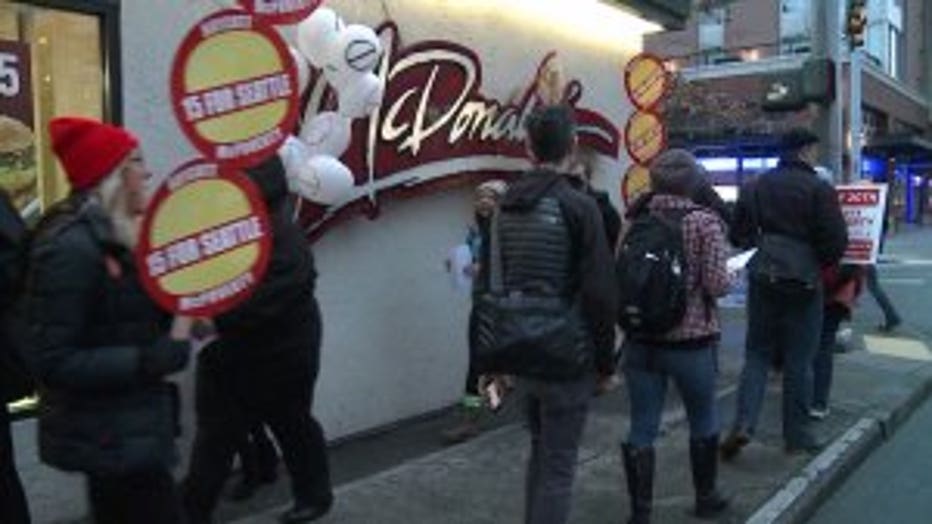 Workers protest outside a McDonalds on Seattle's First HIll


Boycott McPoverty is a day-long protest event with workers from the fast food industry pushing for a $15 minimum wage in Seattle. Workers will boycott outside of 25 different fast food restaurants in Seattle throughout the day, focusing their attention McDonald's, Wendy's and Burger King restaurants.

Workers around Seattle say they cannot survive on their current salaries. The current minimum wage in Washington State is $9.32, which is one of highest wages in the nation.

Jason Harvey has worked at the Burger King in Ballard for 8 years. He says an increase to $15 an hour would be life changing, and would allow him to get off Food Stamps and stop going to food banks.

Not everyone at the protest agreed with raising the minimum wage. One man, who wanted to stay anonymous said the increased wage could be a burden to business owners.

"The pressure of $15-an-hour is a burden on the small business owner," he said.

The next boycott is set for 11:15 a.m. Workers in protesters will meet outside a Wendy's in Lake City at 11744 Lake City Way NE, the McDonald's in University Village at 5146 25th Ave. NE, the Burger King in Ballard at 1432 NW Market St. and the Wendy's on 2543 Rainier Ave S.  at different time throughout the day.