Farmers' Almanac calls for 'teeth-chattering' winter. But what about the PNW?


SEATTLE -- The Farmers' Almanac is calling for a "teeth-chattering" winter with plenty of snow. That forecast, however, flies in the face of the National Oceanic and Atmospheric Administration's prediction of an El Niño fall and winter indicating mild temperatures.

So, who's right? And what does that mean for the Pacific Northwest?

Let's start with NOAA's predictions for the U.S. as a whole. The federal agency said there is a 60 percent chance of an El Niño fall. That means September, October and November would be warmer and drier than normal.

NOAA is increasing that chance to 70 percent during December, January and February.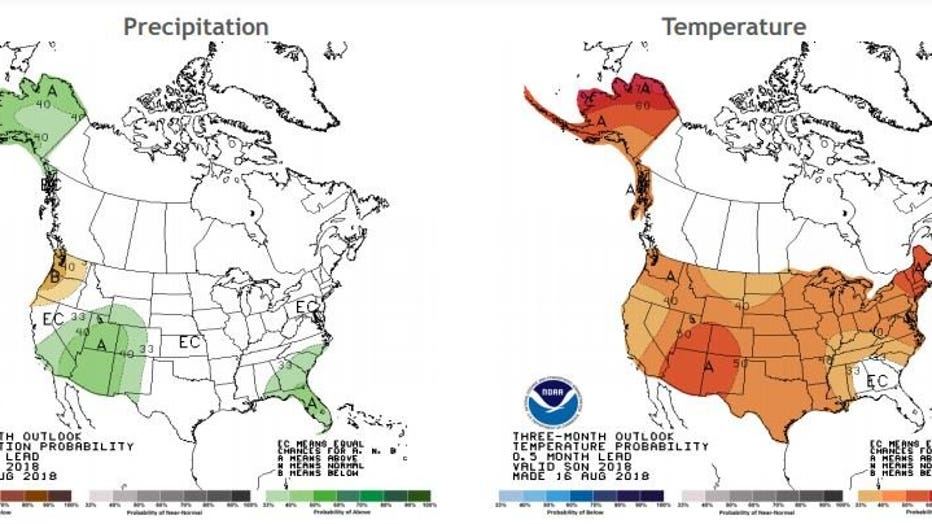 That is in direct contradiction with the long-range outlook released this week by the Farmers' Almanac, which said: "Winter 2019 will be colder-than-normal from the Continental Divide east through the Appalachians."

The Farmers' Almanac is also warning of above-normal precipitation (lots of snow!) for the Great Lakes states, Midwest, and central and northern New England, with the majority of it falling in January and February.

"The rest of the nation will see closer to normal snowfall amounts, although, as the 2019 Farmers' Almanac suggests, a stormier-than-normal March could push snowfall totals to above normal over the northern and central Rockies and Plains. Good news for skiers and boarders!

"Mid-March could be stormy virtually coast to coast, bringing snow, sleet, and/or rain as well as strong and gusty winds to many areas. In particular, we are red-flagging March 20–23 for a potent East Coast storm that could deliver a wide variety of wintry precipitation just as we are making the transition from winter to spring."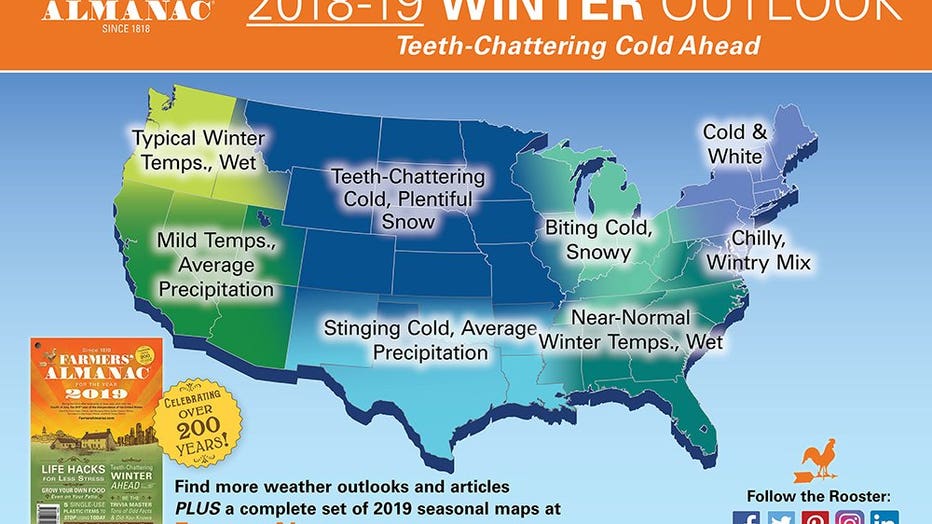 If you noticed, the Pacific Northwest was kind of left out.

The Farmers' Almanac is predicting a typical wet winter for the PNW.

What's the outlook for us?

Q13 Chief Meteorologist Walter Kelley says our fall will be mild with drier conditions. But despite an El Niño winter, we'll still see plenty of powder days in 2019.

"December, January, and February are supposed to have normal precipitation, which would indicate perhaps a late start to the ski season, but a good season," Kelley said.

For the lowlands, that means snow too, "just not as many snow events."

The lowlands typically get 4 inches of snow each year. This winter, Kelley said, we'll get less.

And for the Farmers' Almanac Kelley said: "You take it with a grain of salt."

The Farmers' Almanac bases its predictions on a mathematical and astronomical formula developed in 1818.