Fantasy football 2018: Who's up, who's down this preseason
RICHMOND, Va. — With each team having played at least two preseason games, there are some players rising up the fantasy football draft charts, while others are falling.

Three Players Up

Christian McCaffrey

McCaffrey is dominating running back snaps when starters are in the game through two preseason contests. In the Carolina Panthers new offensive system, under Offensive Coordinator Norv Turner, it seems they will give McCaffrey as many touches as he can handle.

The offseason addition of CJ Anderson was thought to be a detriment to McCaffey's workload, but so far in the preseason, Anderson has only been used as a backup.

McCaffrey impressed, carrying five times for 92 yards, including a 71-yard touchdown in Friday's preseason game against the Miami Dolphins. He added four catches for 28 yards.

The Verdict: He is my 11th ranked running back in PPR (point per reception) leagues and is worth a pick in the mid to late second round.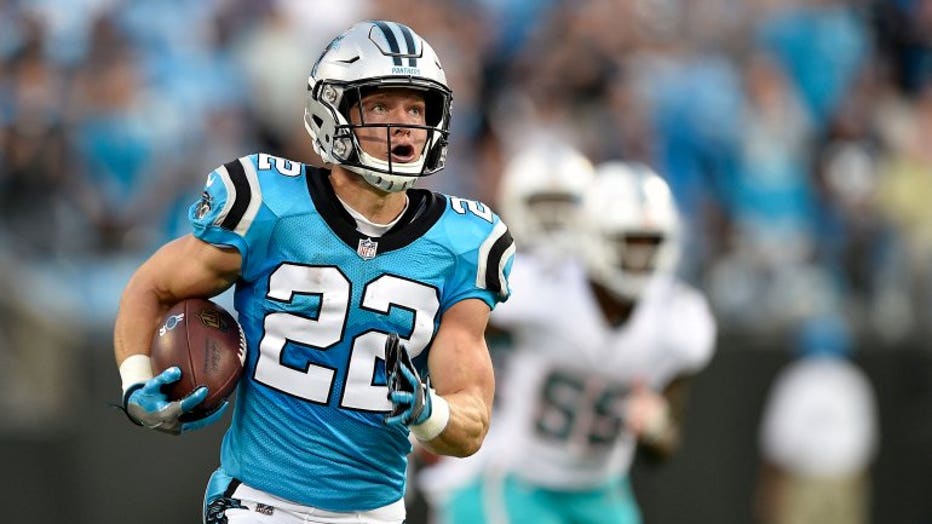 Christian McCaffrey #22 of the Carolina Panthers runs for a touchdown against the Miami Dolphins in the first quarter during the game at Bank of America Stadium on August 17, 2018 in Charlotte, North Carolina. (Photo by Grant Halverson/Getty Images)


Marquis Goodwin

Goodwin seems locked in as Jimmy Garoppolo's top receiver as their connection last season has carried over to this year's preseason.

Goodwin had three catches for 61 yards in the San Francisco 49ers preseason game against the Houston Texans on Saturday.

Last season, Goodwin had a five-game stretch of catching 29 passes for 480 yards that mirrored Garoppolo becoming the starter and winning each of those games.

Coach Kyle Shanahan's system peppers the top receiver with targets, so Goodwin could be in for a busy year.

The Verdict: Daft him as the No. 3 receiver in the fifth or sixth round and he has the upside to be an every week starter in fantasy this year.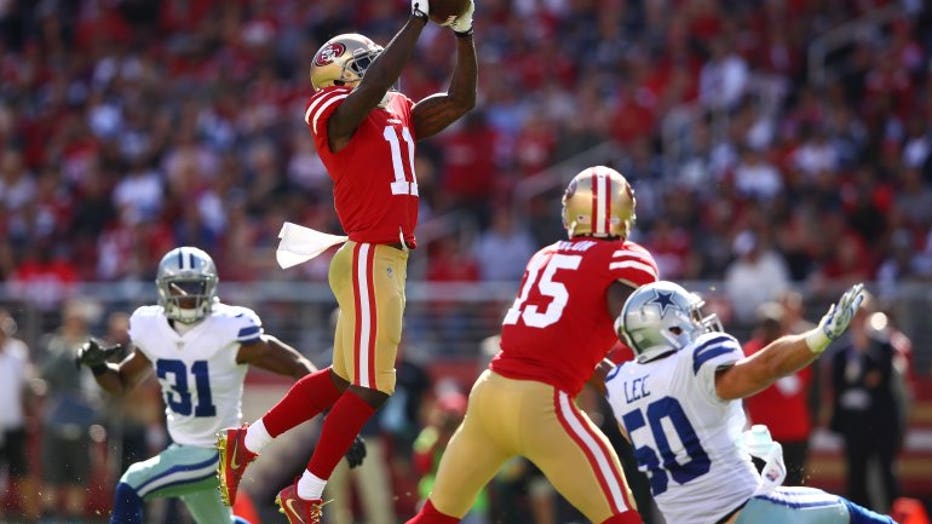 Marquise Goodwin #11 of the San Francisco 49ers makes a catch against the Dallas Cowboys during their NFL game at Levi's Stadium on October 22, 2017 in Santa Clara, California. (Photo by Ezra Shaw/Getty Images)


Austin Hooper

Hooper decided to stay in Atlanta instead of go home to California this offseason. The reason? Through workouts with Atlanta Falcons quarterback Matt Ryan they've developed a better rapport as the two enter year two in Offensive Coordinator Steve Sarkisian's system.

Hooper had a productive 2017, catching 49 passes for 526 yards and three touchdowns.

The offseason work with Ryan has parlayed into an effective preseason, catching two passes for 33 yards and a touchdown from Ryan against the Kansas City Chiefs on Friday.

The Verdict: Hooper is not on many people's radar as a fantasy asset this year, so you can get him with one of your last picks and he has the upside to be an every week starter. If you miss out on the top tight ends in the first eight rounds or so, you can wait and draft Hooper.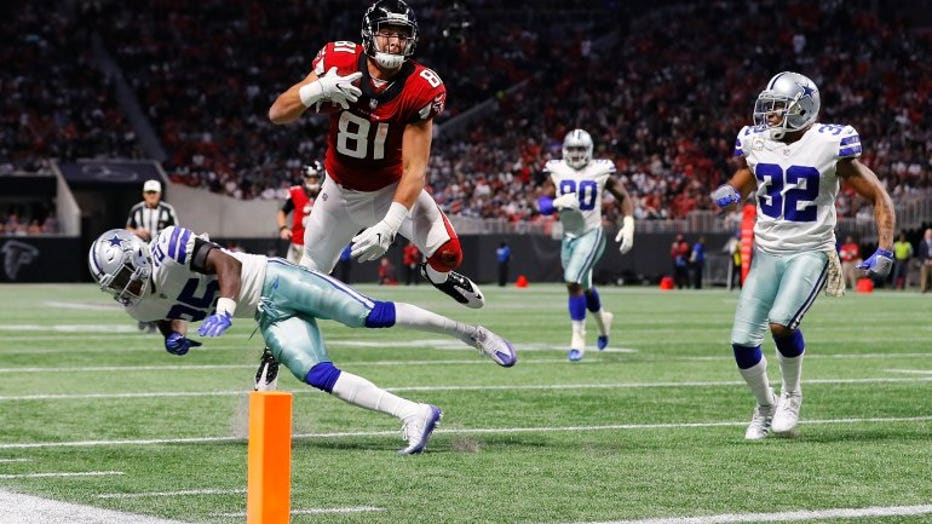 Austin Hooper #81 of the Atlanta Falcons leaps over Xavier Woods #25 of the Dallas Cowboys in an attempt to score a touchdown during the second half at Mercedes-Benz Stadium on November 12, 2017 in Atlanta, Georgia. (Photo by Kevin C. Cox/Getty Image


Three Players Down

Ronald Jones

Don't let Jones' touchdown in the Tampa Bay Buccaneers first preseason game against the Miami Dolphins fool you. I hope you looked at his rushing totals in that game. He carried eight times for nine yards.

He followed that up with two carries for four yards against the Tennessee Titans on Saturday. Jones, a rookie from USC, is far behind fellow running back Peyton Barber on the Bucs' depth chart.

Jones has a lean frame for an NFL running back and his running style exposing him to too many big hits. He seems to be poised for a change of pace role in the Bucs offense, as opposed to a every down back.

The Verdict: His draft stock has been falling a bit, but is still going off the board in the sixth round. Consider favoring his backfield mate, Peyton Barber, in the ninth or tenth round.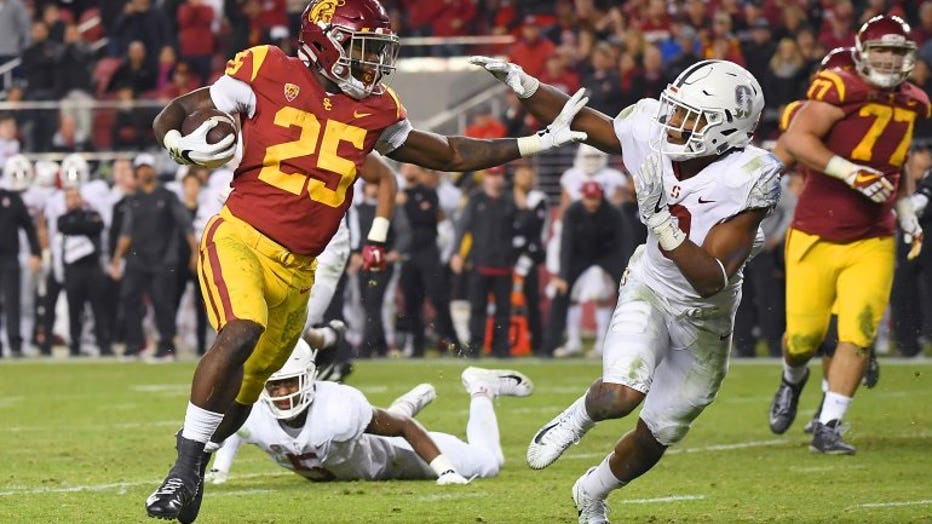 Ronald Jones II #25 of the USC Trojans fights off the tackle of Justin Reid #8 of the Stanford Cardinal to score on an 8-yard touchdown run during the Pac-12 Football Championship Game at Levi's Stadium on December 1, 2017 in Santa Clara, California.


Alshon Jeffrey

Jeffrey is still recovering from offseason surgery to his rotator cuff and rumors are circulating that he may miss the beginning of the regular season.

Furthermore, he plays in the Philadelphia Eagles' offensive system that features the running backs and tight ends with more frequency than the wide receivers.

Jeffrey has yet to play in the preseason and last season he was able to catch just 57 passes on 120 targets, a career-low 47.5 percent catch rate.

The Verdict: He is being drafted in the sixth round, but his teammate on the Eagles, Nelson Agholor, who is available in the ninth round, may be the better selection.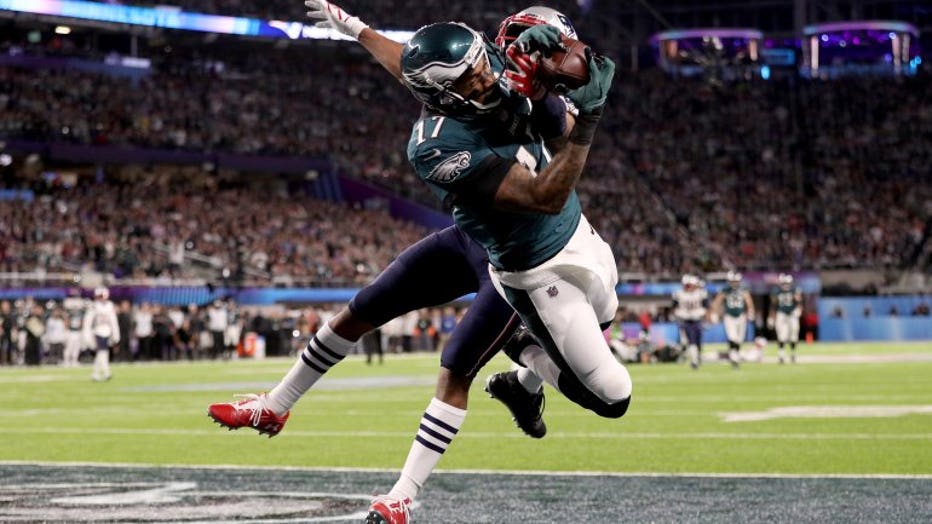 Alshon Jeffery #17 of the Philadelphia Eagles catches a 34 yard pass, over Eric Rowe #25 of the New England Patriots, for a touchdown during the first quarter in Super Bowl LII at U.S. Bank Stadium on February 4, 2018 in Minneapolis, Minnesota. (Phot


Delanie Walker

Walker has been one of the more valuable tight ends in fantasy over the last five years, having totaled at least 63 receptions and 800 yards each season. His most successful season was in 2015 when he caught 94 balls for 1,088 yards.

Walker injured his toe in practice last week and was held out of the Tennessee Titans' second preseason game. While the extent of the injury has not been disclosed, I always worry about a toe injury being designated as "turf toe," a difficult condition to play through.

Another concern I have is that the Titans may focus less on forcing targets to Walker under new Offensive Coordinator Matt LaFleur, who was in the same role with the Los Angeles Rams last season. The Rams targeted their receivers and running backs with a much higher frequency then tight ends.

The Verdict: Walker can still be considered a top-12 tight end, but he may have fallen behind fellow tight ends like the Minnesota Vikings' Kyle Rudolph and the Chicago Bears' Trey Burton.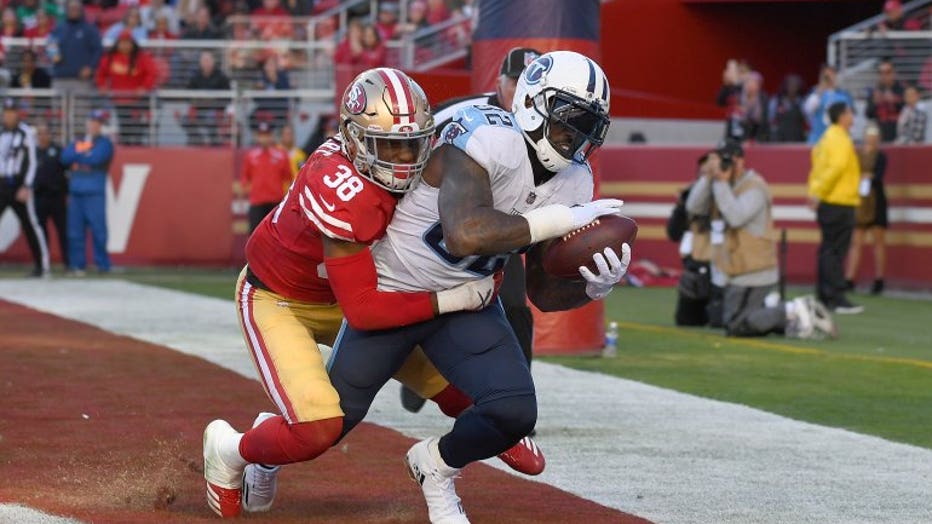 Delanie Walker #82 of the Tennessee Titans catches a touchdown pass over Adrian Colbert #38 of the San Francisco 49ers during their NFL football game at Levi's Stadium on December 17, 2017 in Santa Clara, California. (Photo by Thearon W. Henderson/Ge


This article was written by sister station WTVR's Chief Photojournalist Brad Wilson. Wilson has been an avid fantasy football player for 12 years, winning numerous fantasy championships. In the past three years, Wilson competed in eight leagues winning four of them, finishing in the top three in six and making the playoffs in all.

WTVR.com has called upon Wilson to bring fans some unique insight into fantasy football. Look for his Fantasy Football Chief columns to drop every Tuesday through the football season. Click here to ask him your fantasy football questions.