Family performed lamb sacrifice for Calif. man days before he was ejected onto freeway sign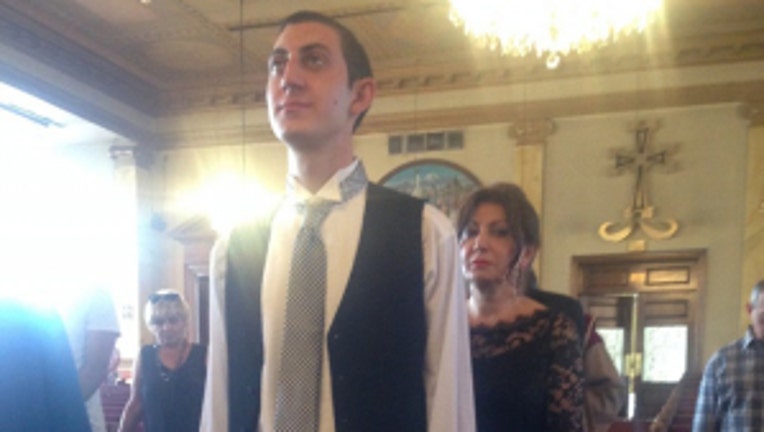 LOS ANGELES -- Relatives of a California man who died in a car crash that launched his body onto a freeway sign last week are trying to raise money for "unexpected financial burdens."

Richard Pananian was passing vehicles on the right shoulder of the southbound 5 Freeway in Glendale around 7 a.m. Friday when he lost control and rear-ended a pick-up truck. His car flipped several times and he was ejected, landing on an elevated freeway sign. He died at the scene.

Pananian's body was covered with a sheet after firefighters ascended a ladder and worked to remove the body. The body remained there for several hours.

A GoFundMe page was created in memory of the 20-year-old because "the family is facing many unexpected financial burdens." The creator of the page, Armen Kardashian, wrote about Pananian's backstory, which includes a Christian upbringing and a recent lamb sacrifice:

"Richard comes from a Christian family that believes in God, and the family has done its best to follow the good book, and live in a righteous way. I myself have lost my faith and question the act of God if he exists. A week ago today on 10/25 the family had done what is called a "matag" or a lamb sacrifice for Richard to protect him from harm and evil. In the Armenian culture sacrifices are done when someone escapes death, as Richards life was once spared. I myself had sat in the car with Richard countless times, and he had a 5 point safety harness that he wore all the time! All the time!! It would be the first thing he did without a reminder. I find it ironic that 5 days after this offering to God, not only did God choose to take this young mans life, but decided to make such a spectacle out of it. If God works in mysterious ways his way remains a mystery to me and has crushed this family as a whole."

"The family is grieving and it's really painful," Armen Kardashian told KCBS. "He was a very genuine soul, he was loving and caring."