Family of slain suspect: 'Our daughter has lost her husband ... the father of her child'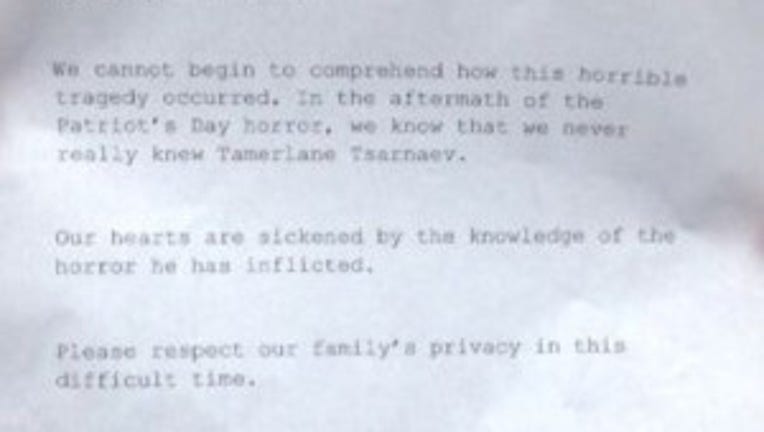 NORTH KINGSTOWN, R.I. (NorthKingstownPatch.com) -- The family of Katherine Russell, wife of slain Boston bombing suspect Tamerlan Tsarnaev, issued a statement Friday night outside their North Kingstown home.

The statement was printed on a piece of paper and handed to a reporter outside the home.

The note reads:

"Our daughter has lost her husband today, the father of her child.

"We cannot begin to comprehend how this horrible tragedy occurred. In the aftermath of the Patriot's Day horror, we know that we never really knew Tamerlan Tsarnaev.

"Our hearts are sickened by the knowledge of the horror he has inflicted.

"Please respect our family's privacy in this difficult time."

Earlier, the North Kingstown Police Department confirmed that the Rhode Island State Police visited a home in North Kingstown in connection with the Boston Marathon bombing investigation, according to the NorthEast Independent.

It has been reported that Russell, 24, was married to Tamerlan Tsarnaev and the two have a 3-year-old daughter together.