Family calls 911 to report their cat 'went over the edge,' is attacking them
PORTLAND (KPTV) -- A Portland family with an infant shut themselves off in a bedroom and called 911 to report that their pet cat had gone crazy and was attacking them.

Police were called to The Yards at Union Station complex on Northwest Naito Parkway just before 8 p.m. Sunday.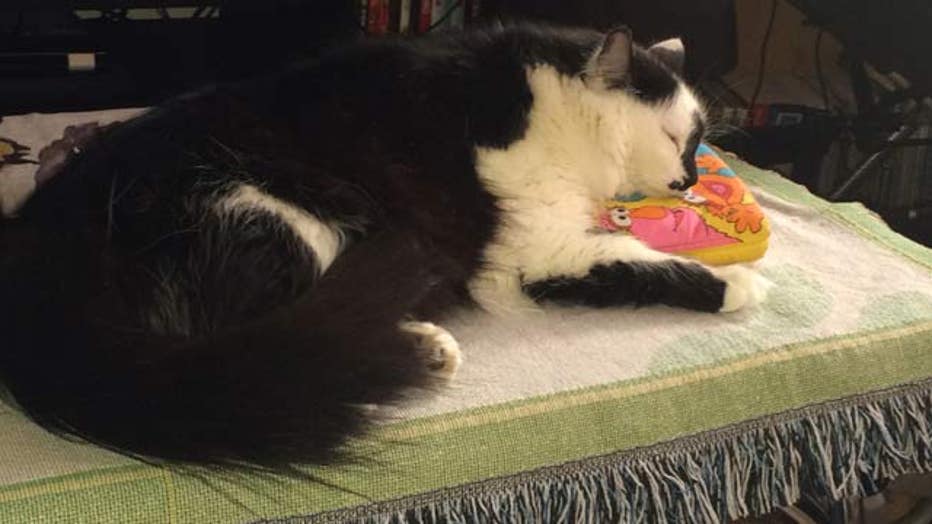 This is Lux the cat, accused of attacking his owners in their Portland home Sunday night. (Photo: KPTV/Portland)


The man who called 911 told the dispatcher the cat "went over the edge" and was charging at them every time they opened the door.

"He's trying to attack us," he said. "He's very, very, very, very hostile."

911 operators confirmed the family's baby did not need medical attention before sending officers to the scene.

"The 911 operator stayed on the phone with the caller to ensure the family, including the dog, remained safe in the bedroom as the cat screeched in the background," a Portland Police Bureau press release said.

The responding officers snagged a dog snare to use in case it was needed to take the alleged cat criminal into custody.

The cat, named Lux, weighs 22 pounds.

When officers opened the door to the apartment, a black and white Himalayan darted into the kitchen, "attempting to flee custody," police said.

The dog snare came in handy, as it was used to put the cat in a crate. Officers then told the family it was safe to come out of the bedroom.

A motive for the feline's frantic behavior has not been revealed.

"He's got kind of a history of violence," the caller told a 911 dispatcher. "He's kind of a violent cat already. But he's really bad right now."

By Monday, everything had calmed down. Lux was hiding under a blanket when a Fox 12 crew arrived at the scene.

Watch the KPTV/Portland video here, including a clip of the 911 call.