Fall storm to bring heavy rain, high winds, potential flooding to Northwest


SEATTLE -- A strong storm system is moving into Western Washington, promising heavy rain, high winds and potential flooding.

A high wind warning is in effect at the coast, Admiralty Inlet, and the north interior north of Everett. Sustained winds could reach up to 60 mph.

This is the first big wind storm of the season for those areas, so snapped limbs and downed trees are possible.

In the mountains, a winter weather advisory is in effect for the Cascades mainly around Stevens and Snoqualmie passes.

What's ahead?


We've already seen freezing rain in the mountain passes and heavy rain in the lowlands.

Now Q13 News meteorologists are tracking possible flooding on rivers in Mason and Whatcom counties, and our first windstorm of the season.

We have a hose of moisture aimed at the PNW -- and this morning your biggest threat is lowland rain across much of Western Washington for the early commute. Grab the rain gear and a jacket because most of us are looking at at least 1/4" of rain today with some locations along the Coast and the North Sound looking at higher rain amounts 1/4-1/2" possible.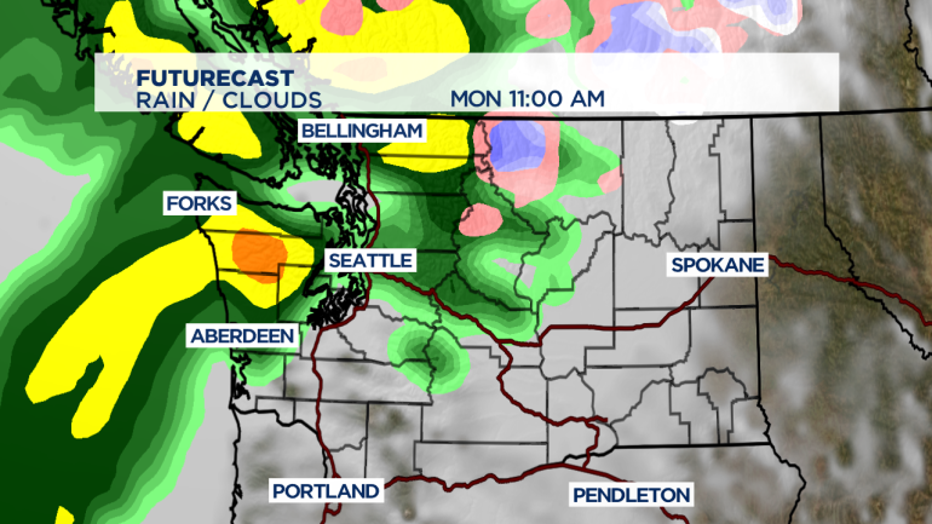 WINTER-LIKE DRIVING THROUGH THE PASSES

If you're driving up and over Stevens, Snoqualmie or White Pass this morning be on high alert for freezing rain this morning and the potential for ice on the road. Temps. are mild in the lowlands and freezing level is around 7,500' this morning, however cold easterly winds are pulling in dense cold air near the surface. The advisory is for the Cascades above 2,500'--but really the only threat is around pass level.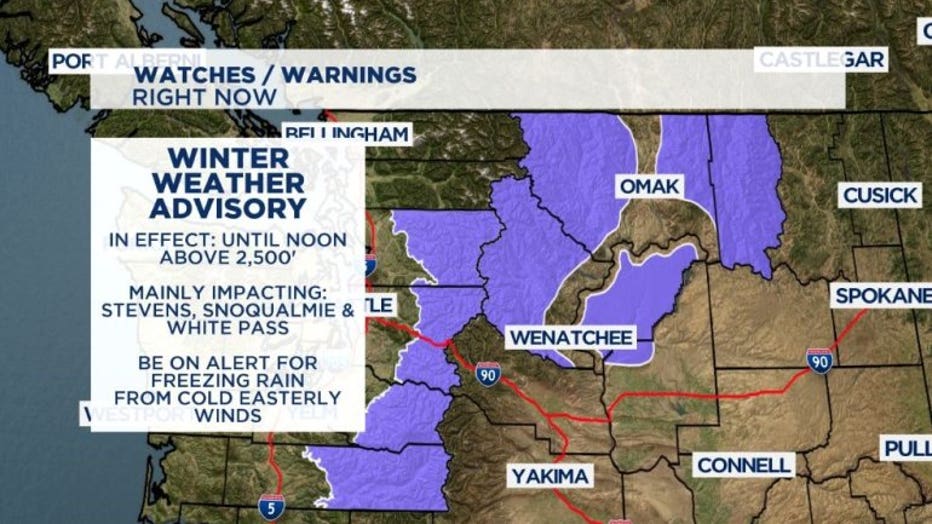 A strong storm arriving today means wet and windy conditions are expected to continue through most of the day across the Puget Sound. We're looking at some GOOD rain amounts around the Olympics and North Coast with rain becoming heavier through the day. Heaviest rain expected on the south facing slopes of the Olympics and North Cascades. Some models are suggesting storm totals in that area of up to 5" of rain, other models a bit more aggressive... showing up to 8" around N. Cascades and up to 10" around the Olympics. REGARDLESS of exact amounts -- we're looking at enough rain that there's some FLOODING POTENTIAL around Mason and Whatcom County later today.

We've already seen over 1" of rain around the Coast since just midnight: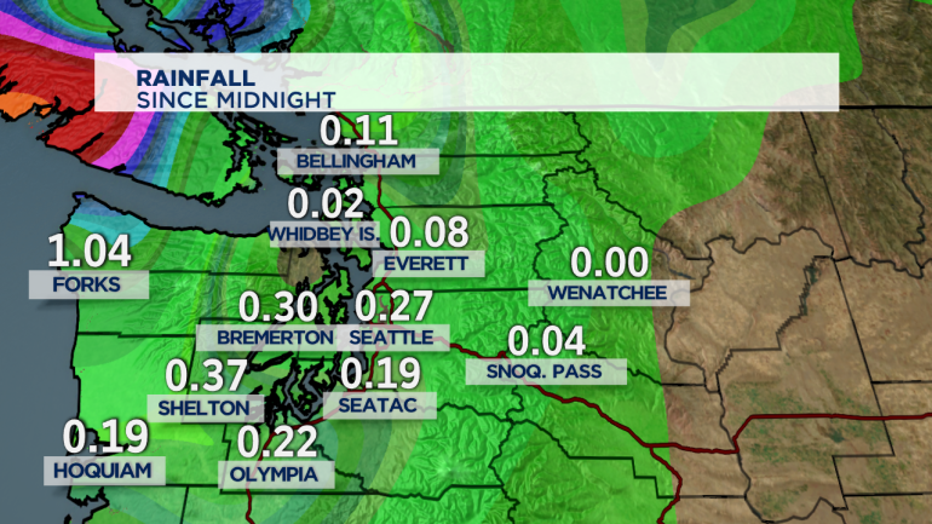 FLOOD WATCH

In place for this evening through Tuesday evening for part of NW Washington. Periods of heavy rain will bring about 5" of rain to the Skokomish River Basin and could drive Skokomish River above flood stage tonight. Heavy rain in North Cascades could lead to potential flooding over the Nooksack River tonight and Tuesday.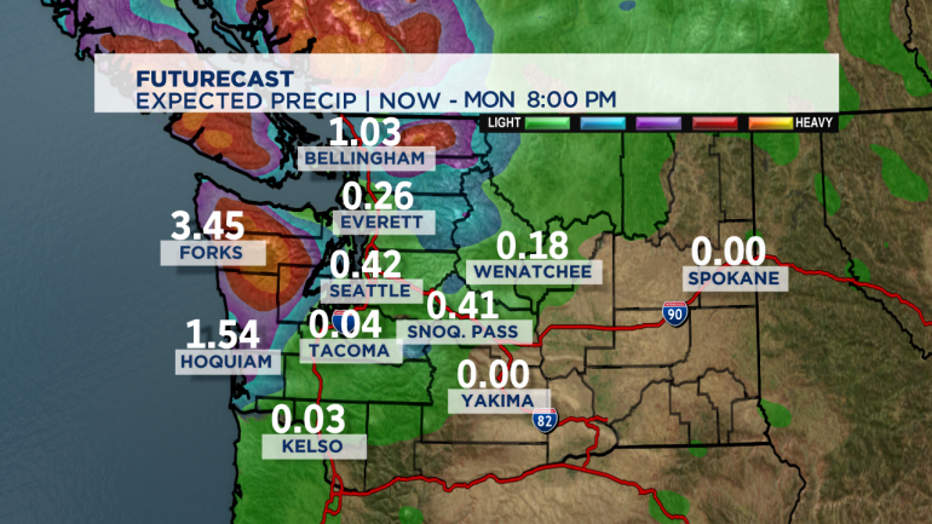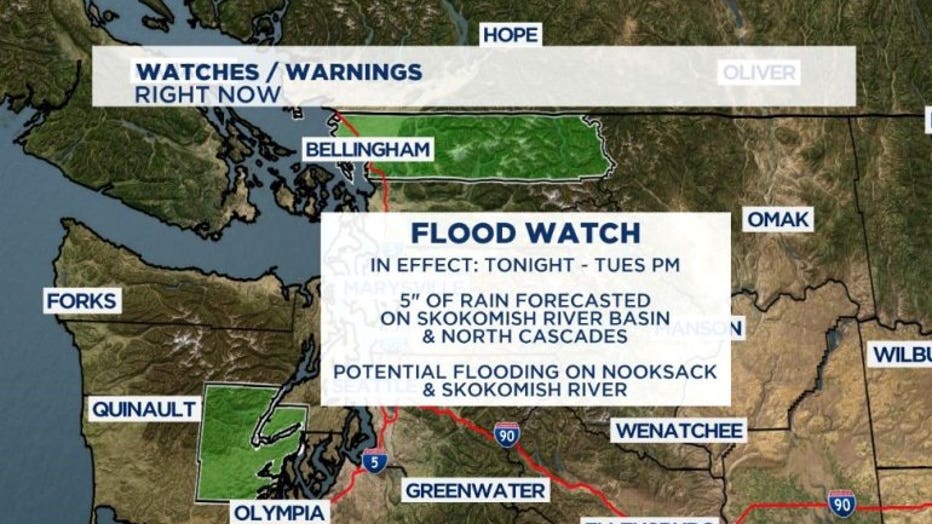 How much rain are we looking at today/tonight?? Heaviest rain comes tonight:

SEATTLE/SHORELINE/FEDERAL WAY/KENT -- TODAY: 1/4-1/2", TONIGHT: 1/2 - 1" 

BREMERTON/SILVERDALE -- TODAY: 1/2-1", TONIGHT: 1-2.5" (rain especially heavy after midnight) 

EVERETT / EDMONDS/ LYNWOOD/MARYSVILLE -- TODAY: 1/10-1/4", TONIGHT: 1/4-1/2" 

TACOMA/LAKEWOOD/PUYALLUP/SUMNER -- TODAY: 1/4-1/2", TONIGHT: 1/2-1" 

EASTSIDE/BELLEVUE/KIRKLAND/REDMOND/ISSAQUAH -- TODAY: 1/4-1/2", TONIGHT: 1/2-1" 

1st Windstorm of the Season:

All of this rain means our ground is going to be super saturated as we go through the day... That's cause for concern with some strong winds on the way across the North Sound and WA Coastline.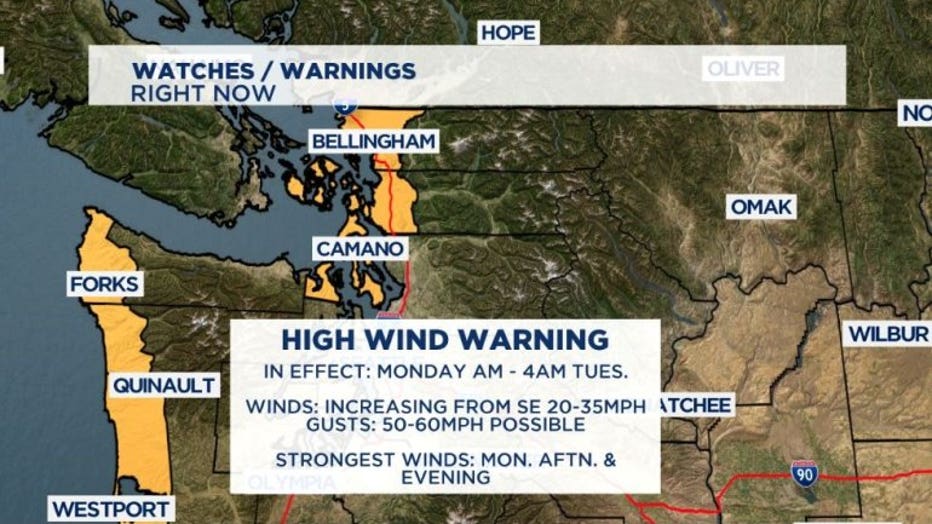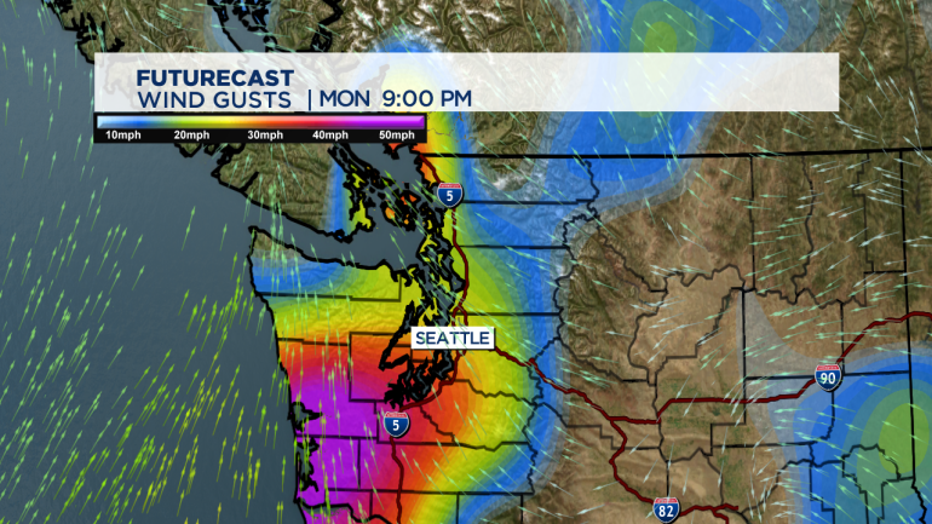 A High Wind Warning is in place for the North and Central Coast, Western Whatom/Skagit County, Camano Island, San Juan Islands and around Port Townsend today. The warning in effect until 4am Tuesday. Locations under this warning could see winds from the SE 20-40mph today with gusts up to 60mph. Strongest/peak winds are expected later this afternoon and tonight. Since this is our first decent windstorm of the season look for a little bit more potential for down trees and branches and possible power outages.

Expect heavy rain today to wind down and become more showery come Tuesday morning behind the passing cold front. Snow levels fall to 5,000' so remaining above pass levels as we switch over to snow in the higher elevations... great news for several mountain ski resorts still hoping to open up!