Facebook starts privacy alerts to affected users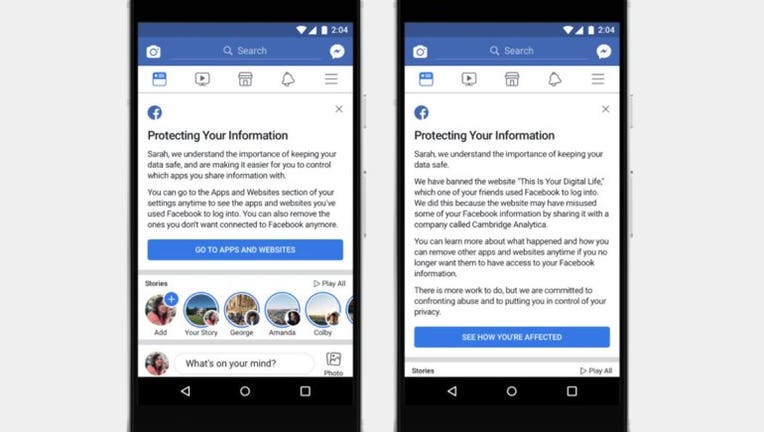 Facebook has begun alerting some users that their data was swept up in the Cambridge Analytica privacy scandal.

A notification that appeared on Facebook for some users Tuesday told them that "one of your friends" used Facebook to log into a now-banned personality quiz app called "This Is Your Digital Life."

The notice says the app misused the information, including public profile, page likes, birthday and current city, by sharing it with the data-mining firm Cambridge Analytica.

Click here to see if you've been affected


As many as 87 million users who might have had their data shared were supposed to get a detailed message on their news feeds starting Monday.

Facebook says more than 70 million of the affected users are in the U.S., though there are over a million each in the Philippines, Indonesia and the U.K.




Experts are questioning whether Facebook is fundamentally changing its relationship with users or just tinkering around the edges of its deep need for user data to sell ads.

CEO Mark Zuckerberg is testifying before Congress on Tuesday and Wednesday in the wake of revelations that pro-Donald Trump data-mining firm Cambridge Analytica scooped millions of Facebook users' data without their knowledge.

Researchers say it's unlikely that Facebook will upset its business model, which allows advertisers to precisely target users, even as the company clamps down on the information it passes to app developers.

And Wall Street analysts are counting on Facebook to survive a user revolt, with shares up some 4 percent after a nine-month low hit late last month.