Explosion destroys North Bend buildings; blast felt for miles
article


NORTH BEND, Wash. -- A powerful explosion destroyed several buildings in eastern King County on Friday morning.

Investigators are looking into whether natural gas is the culprit.

The debris field is massive, and is scattered as far as 300 yards from the blast.

Renovations had been under way at one of the buildings,  but Puget Sound Energy said it believes the pipes on their end were not the cause of the fire.



The explosion happened around 4 a.m. and the blast shook homes several miles away.

"My power flashed off," said Brian Fitton. "There was this big bright flash and then just a massive explosion."

When the sun came up, the true scope of the damage could finally be surveyed.

The shock wave buckled the doors at the nearby Les Schwab store and another building was knocked right off its foundation.

Michele Dunbar owns a hair salon in one of the damaged buildings. She came to see the damage for herself

"Never seen anything like that in my life in our small town," said Dunbar. "This is this is really serious. This is not good."

Cleanup crews started clearing the debris late Friday morning.

Detectives from the King County Sheriff's fire and arson unit searched through the debris field looking for the fire's origin.

"We can look at the damage and look at the direction of the damage and start narrowing it down," said the unit's Craig Muller.

Luckily, only a couple of minor injuries were reported at the Red Oak retirement home.

Dunbar said it's a miracle nobody was killed in the blast.

"It looks like a war zone," said Dunbar. "It looks horrible."

Across the street from the blast is the Mount Si apartment complex where dozens of windows were blown out from the explosion.

North Bend city inspectors spent Friday looking inside each unit to see if it's safe for people to stay there.

Apartment management said five families have been forced out of their home.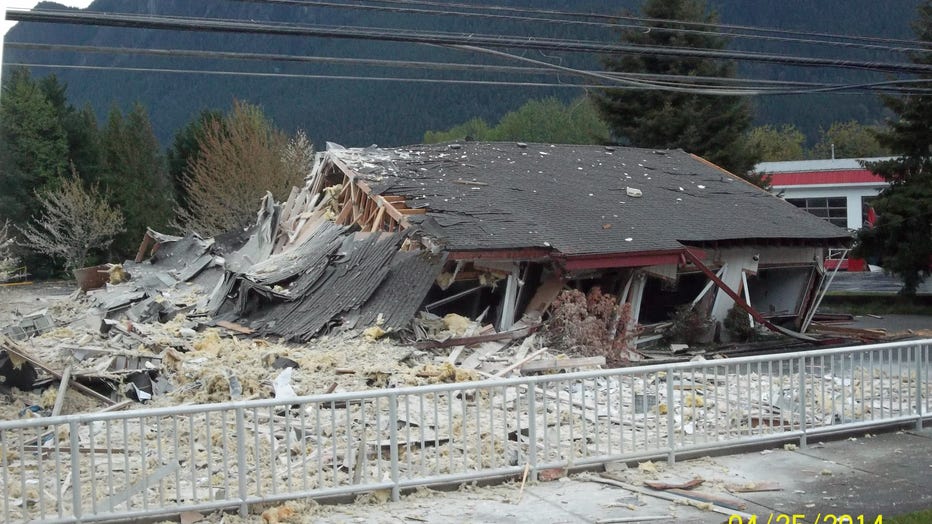 This was a strip mall in North Bend, but not much left after Friday's explosion. (Photo: Eastside Fire & Rescue)