Expect road closures, delays in Everett for Trump's visit


EVERETT, Wash. --  It's all hands on deck for Everett police as they plan for Donald Trump's visit Tuesday.

"It's a large event in the city, ultimately; with the Secret Service, we are working with many other agencies," Everett Police Department spokesman Aaron Snell said.

For safety reasons, all the roads surrounding the Xfinity Arena -- where Trump will be holding a rally -- will be shut down, including a stretch of Broadway, a main artery in Everett.

"I know the street in front of my shop will be closed. We are just letting everyone know tomorrow isn't the day to come in," Tommy's Guitar Shop owner Tommy Steinley said.

Starting Tuesday morning, no cars will be allowed to park along the streets surrounding the arena and road closures are expected to start midday.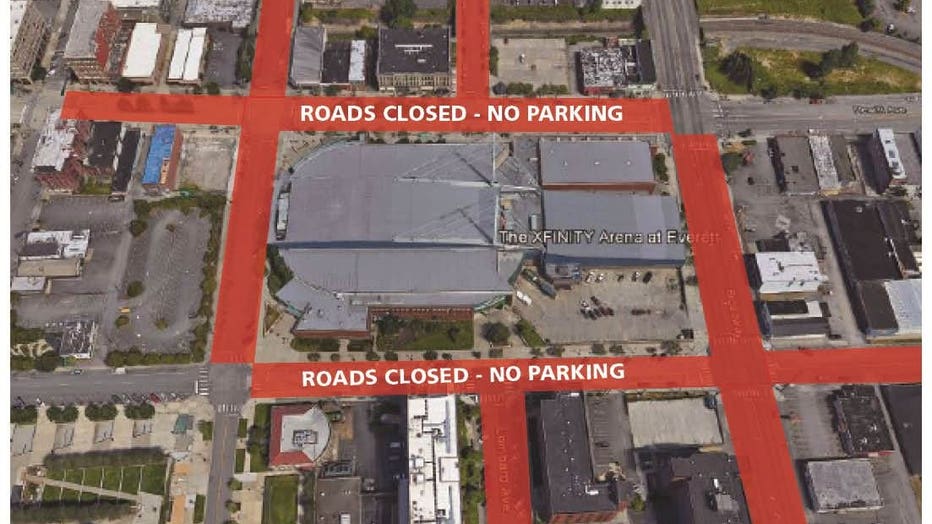 Steinley says his guitar shop will be open for business but they hear others have chosen to close, knowing there will be a traffic nightmare.

"We are working really hard to minimize the traffic impacts on the people here in Western Washington," said state Sen. Doug Ericksen, R-Ferndale.

The GOP leader is helping to organize the 7 p.m. rally. Ericksen said the presidential candidate wanted to hold a public rally and not just attend a fundraiser on Tuesday.

"Mr. Trump was insistent that we actually do a public rally here in WA state, make it free, make it open to the public," Ericksen said.

Supporters are confident they can pack the arena with a capacity of 10,000 people. Everett police say everyone will go through the main entrance and everyone will be screened.

"They are asking people not to bring bags, backpacks, small purses if possible," Snell said.

Police will also have to contend with protesters.

At least two groups are calling for a protest. The Freedom Socialist Party plans to gather on Hewitt Avenue outside the arena. A second group, No Hate in Our State, will meet at Clark Park on Lombard Avenue. Police say protesters plan to march the four blocks to the Xfinity Arena.

"We want people to be safe, that's our entire goal," Snell said.

As of Sunday morning, Ericksen said, the Trump campaign handed out 13,000 tickets online, more tickets than there are seats. He says many people who end up getting free tickets may not show up so they want to make sure they have a good showing.

The Snohomish County Sheriff's Office said on its Facebook page, "Our administrative offices on the Fourth Floor of the Courthouse (3000 Rockefeller) will close at 3 p.m. Please visit one of our precincts (http://bit.ly/2bNf5Es) if you need concealed pistol license or fingerprinting services tomorrow afternoon. Also, if you need to visit the courthouse or jail tomorrow, please plan for heavy traffic, limited parking, and congested streets near the county campus."