Everett baristas on alert after espresso stand robberies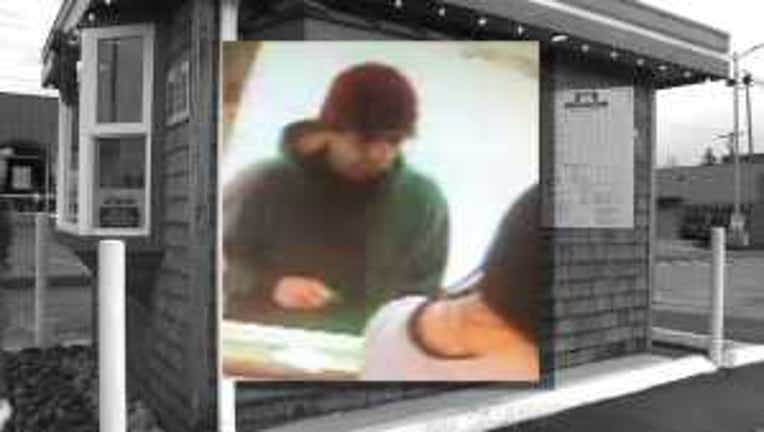 EVERETT -- Recent robberies have baristas on guard in Everett.

A coffee stand owner, Jasmine Diedrich, said her coffee chain has been robbed by the same guy.

But that didn't stop Diedrich's Espresso from serving up cups of joe even on Christmas Day.

"Merry Christmas," barista Talia Salter said as she greeted a customer Tuesday.



But behind Salter's cordial demeanor is concern. "This is the panic button," Salter said, pointing out the device in her workplace.

It's an alarm that this Everett coffee chain had to ring twice to alert police.

Last Thursday, surveillance cameras caught the robber in the act at the stand in the 2000 block of Broadway. Diedrich said the same man hit another one of her coffee stands Monday,  on the same street but several blocks away from the first one.

"Leave us alone, it's the holidays, you ruined my Christmas and it ruined two of my other girls' Christmas," Diedrich said of the robber.

Both of the robberies happened during the day. The victims said the man was quiet and eerily polite while he forced the baristas to empty out the cash registers.

"He said thank you afterwards. He handed people a note and didn't say anything; it's a little scarier that way," said Salter.

"He handed them a note, he didn't even ask for the money," said Diedrich.

The victims described the man as white, average height, possibly with curly brown hair.

"He was in his early twenties, and one of the girls said he was good-looking," said Diedrich.

Diedrich was shown surveillance images released by Everett police recently of a November robbery at Steamers Espresso.

"That looks like it, definitely could be the guy. It looks a lot like the picture that we have," said Diedrich.

But in the November robbery, the man climbed into the stand when the barista refused to give him money.

Police say the suspect said he was "desperate" and threatened to stab her.

Authorities will be looking into all of the cases to determine if they are related.

Salter said she's terrified it could happen to her next.

"I would go into shock, just like the other girls did," said Salter.

Salter is eight month's pregnant with no room for a scare. Several of the baristas are so frightened that they are bringing their personal bodyguards to work -- a family member, a boyfriend or just a friend, so they are not alone when in the stands.