Evans Canyon Fire 20 percent contained and nearly 74,000 acres, officials say
KITTITAS COUNTY, Wash. - Crews work to extinguish the Evans Canyon Fire as it continues to burn just north of Naches, Washington, and into Yakima County.
As of Saturday morning, Northwest Incident Management Team spokesperson says about 20% of the fire has been contained, an increase of 10% from earlier Friday, and covered about 74,000 acres in the Yakima and Kittitas counties.
Fire crews worked along the Yakima River Canyon, up to Cleman Mountain to extinguish the south/southwest sides of the fire overnight and Saturday. Night crews kept the fire from spreading overnight, NWIMT says.
Fire crews will continue to keep the wildfire from spreading across the Yakima River on Saturday.
As the wildfire spreads through par of central Washington, families living along the Yakima River in Ellensburg said the fire continues to get closer to their homes.
"It definitely doesn't make you feel comfortable," said Michael Cox.
RELATED: Officials concerned about wind at 70,000-acre Evans Canyon Wildfire
Cox can see the flames burning along the Yakima River from his front yard. Friday, he spent the evening watering his property to prevent any stray embers or ash from damaging his home.
"The little bit of nervousness comes in. We got people evacuated on that side of us, and level 1 evacuations over there, and they haven't put any out for us yet, but we're right in the middle and we can see it," said Cox.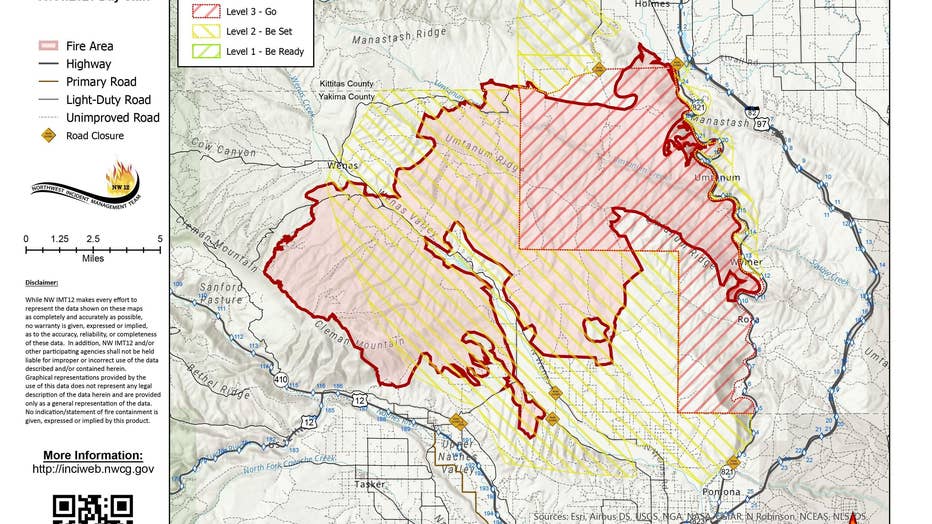 Evans Canyon Fire size in Kittitas and Yakima counties on September 5, 2020. (Photo credit: InciWeb)
RELATED: Evans Canyon Fire in central Washington destroys 5 homes; evacuation orders issued for hundreds in the area
While he and his family are remaining in their home, he knows what they need to do if it comes time to evacuate.
"Get the stuff that you can't replace: your people, your family, that what you love. And get ready to go if you have to, but other than that you have to carry on like normal," he said.
Several roads have been closed due to the wildfire, including parts of North Wenas Rd., Sheep Company Rd., Naches Wenas Rd., and Longmire Rd. Hwy 821 (Yakima Canyon Hwy), BBQ Flats, and Wenas recreation sites will also remain closed.
Some areas will have moderate air quality due to the heavy smoke from the fire. Kittitas County, north of Umtanum remains level 2 evacuation notices, and other county areas remain at Level 3. Yakima County has been downgraded to Level 2.