Erupting volcano shuts Bali airport for 2nd day


KARANGASEM, Indonesia  — Indonesia's disaster mitigation agency says the airport on the tourist island of Bali is closed for a second day due to the threat from volcanic ash.

Mount Agung in the northeast of the island, about 43 miles from the airport, has continued erupting Tuesday, sending plumes of smoke and ash about 9,800 feet above the crater.

Agency spokesman Sutopo Purwo Nugroho said the airport closure is in effect until 7 a.m. Wednesday. He said the airport on neighboring Lombok has reopened after being closed on Monday night.

More than 400 flights were canceled and nearly 60,000 passengers stranded Monday on the first day of its closure.

Authorities have ordered 100,000 people to evacuate from areas close to the volcano.

Another eruption is imminent

Spokesman for Indonesia's Disaster Mitigation Agency says lava is welling up in the crater of the Mount Agung volcano on Bali "which will certainly spill over to the slopes."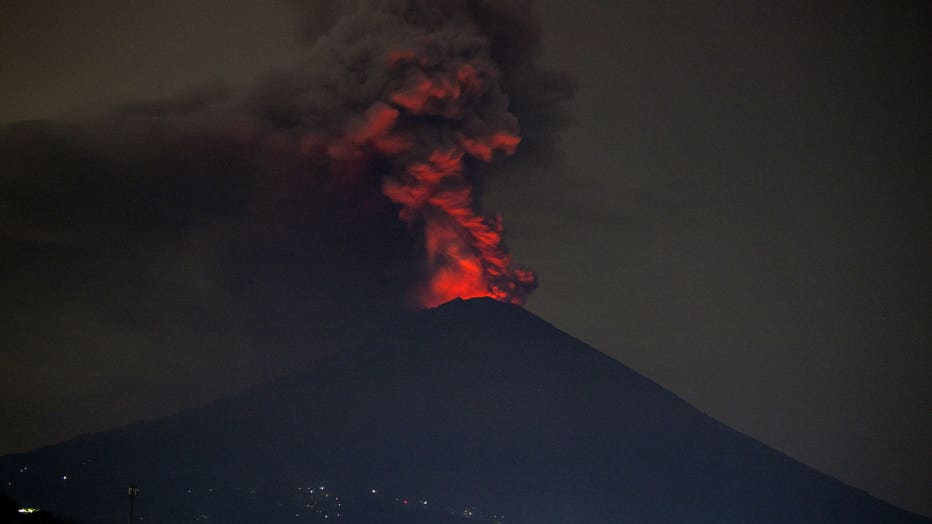 Volcanologists say the lava's presence is sometimes reflected in the ash plume which takes on a reddish-orange glow even in daytime.

Agency spokesman Sutopo Purwo Nugroho said bigger eruptions than those currently happening are possible based on the information the disaster agency is receiving from the volcano monitoring center.

He said that "since yesterday there were explosive eruptions whose sound was heard up to 12 kilometers (7.5 miles) away."

Nugroho said officials are responding based on a worst-case scenario occurring because Agung has a history of violent eruptions. Its last major eruption in 1963 killed about 1,100 people.

He said, "we cannot be sure whether this time eruptions will be the same with 1963."