EPA: 1,000 containers of hazardous materials found at Green Lake home


SEATTLE -- The EPA is working a potentially dangerous situation at a home in the Green Lake neighborhood where hazardous chemicals were found.

Officials say a man was using toxic chemicals for research. The EPA says this is a safety issue -- not a criminal case.

Authorities say there were 1,000 plastic and glass containers filled with chemicals in the house and yard. Full of chemicals like nitric acid and sodium nitrate which are normally found in commercial or industrial labs.

Neighbors say they've been watching emergency officials remove the chemicals for two days.

"Barrels and barrels and barrels of stuff, quite a lot," said neighbor Linda Ribera. "I never imagined that much stuff."

"We have a lot of chemicals in improper containers, unlabeled containers. We've been taking those, doing field analysis on those. Getting them into a hazard category, separating them, getting them packed up," said EPA spokesperson Jeffry Rodin.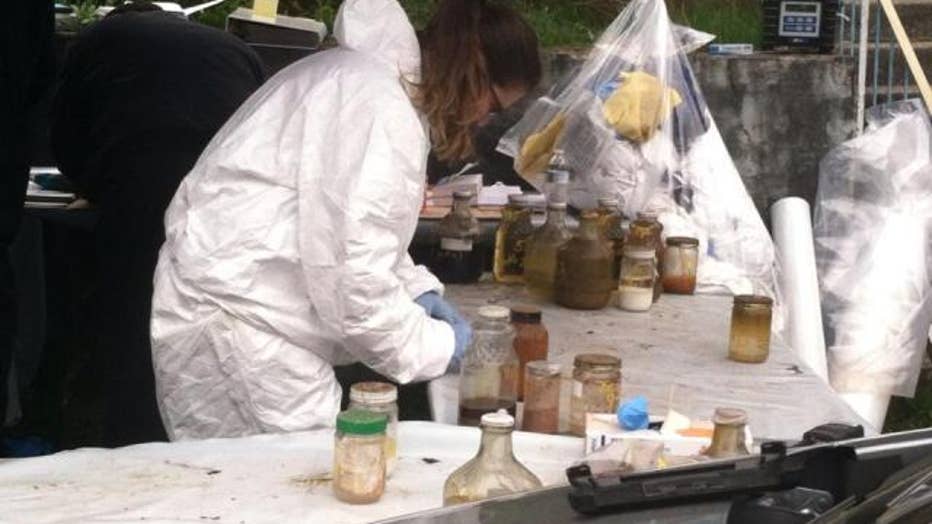 The homeowner told the EPA that he has a background in chemistry and was doing research.

Ribera said she noticed an acidic smell when she walked her dog in the area.

"He's a very nice gentleman," she said. "Did a lot of woodwork that I've noticed. I just thought maybe it was the stuff he was using to finish the wood."

She said paramedics who came to treat the man's elderly mother discovered the containers last month and notified authorities.

"I guess it's a good thing because nobody knew there was all this stuff here. And who knows what could happen to the soil and all that if it was leaking," Ribera said.

The EPA is monitoring the air and said there is no immediate threat to neighbors, but they agree this could have been a dangerous situation.

"Things could have released, if children played in the yard they could have been exposed to the chemicals if they were spilled," Rodin said. "If the house were to burn it would have created a more intense fire and possibly a more toxic smoke plume from chemicals burning."

Removing and safely disposing of the chemicals could take several more days.