Emerald Eats: Recipes from Seattle's iconic Mamnoon restaurant
SEATTLE - Local chefs Nicco Muratore and Victoria Sweden from Seattle's iconic Mamnoon restaurant joined Studio 13 Live on Friday to share their recipes for their Basal Labneh and Squash and Mushroom Fatteh. 
Below you will find a complete list of ingredients and the method the chefs use to make authentic Labneh and Fatteh the Mamnoon way.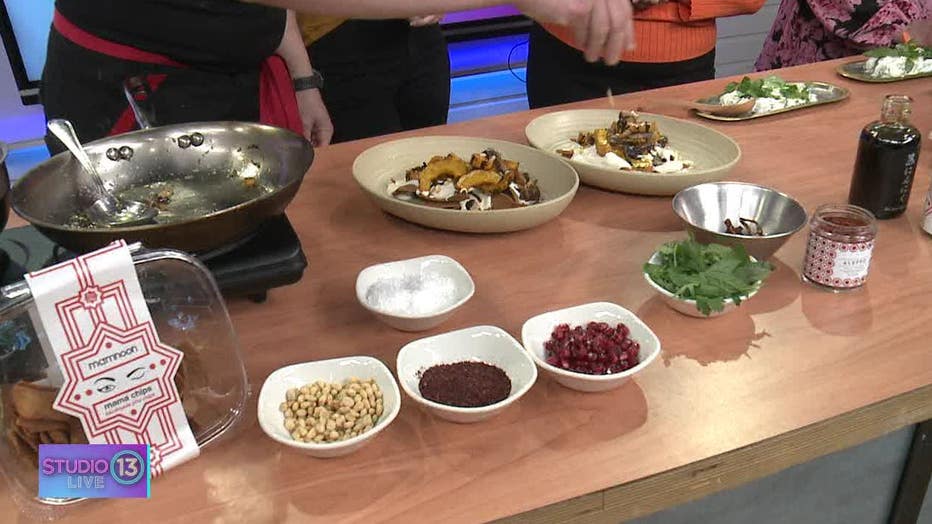 Basal Labneh
2 Cups of labneh
1 tablespoon of za'atar
2 teaspoons of aleppo pepper flakes
1/2 cup of caramelized onions, chopped
2 tablespoons of olive oil
Mix all the ingredients together in a bowl, taste and serve with pita and crudités.
Squash and Mushroom Fatteh: 
1 package of Mama pita chips
2 cups of garlic yogurt (2 cups of yogurt, 2 tablespoons tahini, 1 teaspoon salt, 4 cloves of garlic, minced)
1 cup of cooked mushrooms
1 cup of roasted squash
2 tablespoons of brown butter
Garnish: Chopped herbs, Black garlic molasses (optional), Sumac, Pomegranate seeds, Pine nuts
Method:
Heat the garlic yogurt in a pot until warmed through (do not boil, it will separate).
Sauté the mushrooms and squash in the brown butter for 3-4 minutes, until golden brown.
Assemble the fatteh by putting the pita chips in the bottom of the bowl.
Spoon garlic yogurt over the pita chips
Add the sautéed mushrooms and squash.
Garnish with pomegranate seeds, toasted pine nuts, ground sumac, chopped herbs, and black garlic molasses (optional)
MORE RECIPES ON EMERALD EATS: LASA Sandwiches & Pearls: Classic Filipino favorites - Pork belly and Tofu roll recipes