EF-0 tornado touches down in Portland, funnel cloud spotted in Kent


PORTLAND, Ore. -- Strong storms across the Pacific Northwest Sunday spurred an EF-0 tornado that knocked out power and caused minor damage in Portland, the ">National Weather Service reports.

The small tornado briefly touched down in north Portland at about 3 p.m., the agency says.

The main damage was reported just south of Marine Drive where three semi-trailers were overturned and a building received minor roof damage.

While Portland saw an EF-0 tornado touch down, Western Washington got several reports of funnel clouds around the same time in Gig Harbor, Federal Way and Kent between 3 p.m. and 4 p.m.
 

"We actually saw a number of thunderstorms roll through our area right around that same time as the tornado in Portland. I've seen several videos from viewers showing some pretty nice rotation," said Q13 Meteorologist Katie Boer. "That said, the National Weather Service in Seattle never received any kind of confirmation that a funnel cloud ever touched down though. If it had reached the ground it would've been considered a tornado.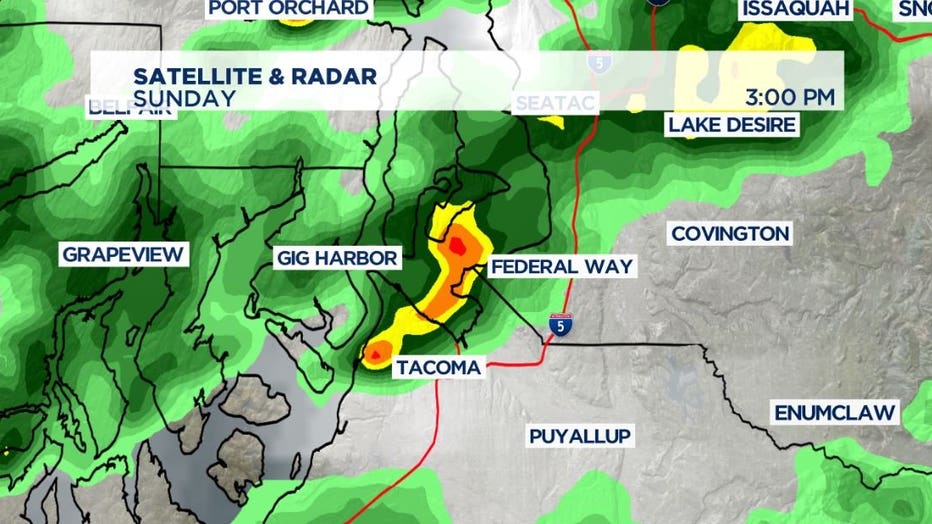 No one was hurt, the National Weather Service says. More than 800 homes and businesses lost power during the storm.

An EF-0 rating means the tornado had wind speeds between 65 to 85 mph.

While rare, tornadoes are possible in Washington state.

"It's very uncommon--but certainly not impossible," said Boer. "We usually average about one or two of them a year in Western Washington."

The National Weather Service in Seattle confirmed the last tornado to touch down in Western Washington was on March 31, 2017.