Ecologists closely monitor oil spill after Marina fire destroys 7 yachts
LA CONNER - An extensive clean up continued on Saturday at Shelter Bay Marina in La Conner after a huge fire damaged or destroyed nearly a dozen yachts. The main concern for crews was to contain the oil that spilled into the bay.

Witnesses say Friday evening they first heard an explosion then saw the fire.

"Actually I thought my boats was up flames," Matt Wing said.

Wing's yacht was just inches away from the inferno, he says someone untied his boat saving it from being destroyed.

"It did suffer quite a bit of smoke damage to see it in that condition it's kind of heartbreaking," Wing said.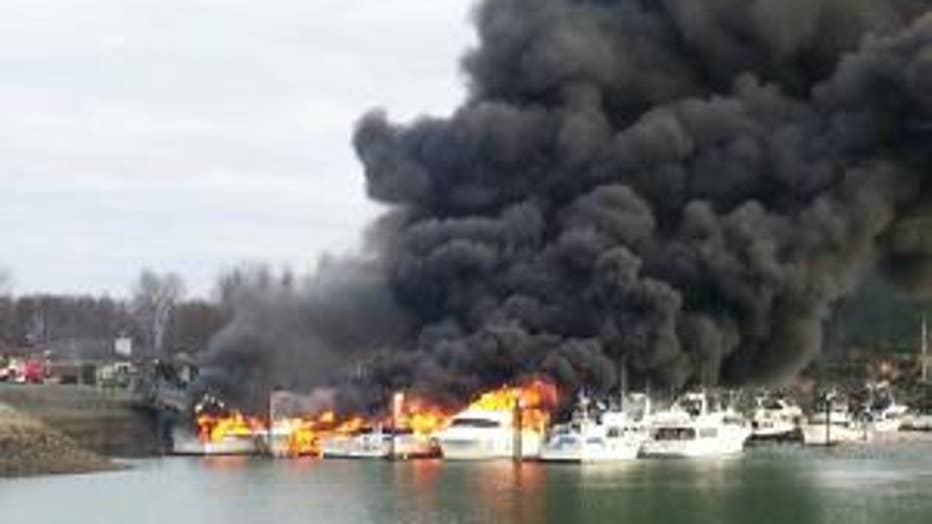 But things could be worse. The flames quickly jumped from one boat to the next and there was nothing even firefighters could do about it. In all 7 vessels were destroyed with most of them sinking under water.

"They were really nice absolutely beautiful yachts," Larry Kibbee said.

Kibbee is the president of Shelter Bay's Board of Directors. He says the estimated damage could be in the millions.

Crews fished two boats out of the marina on Saturday and it could be Monday before the rest of the vessels are picked up. But the rainbow of diesel fuel polluting the bay cannot wait.

"Anytime oil gets into the environment we want to make it a priority to get it out as quickly and safely as we can," ecologist Laura Hayes said.

Ecologists say up to 2,400 gallons of oil could have potentially been released. But they are using containment booms to prevent the fuel from traveling to the nearby Swinhomish channel.

"As for human health and safety we are monitoring the oil and air quality," Hayes said.

They are also closely watching wildlife, hoping there are no long term environmental problems.

The cause of the fire has yet to be determined.