Durkan, Moon Focused on Election, Transition of Power
Seattle, Wash. – With less than two months from Election Day, both Seattle mayoral candidates say they're focused on the election and the transition of power.  Right now, Mayor Bruce Harrell holds the position, but inevitably it will go to either Jenny Durkan or Cary Moon.  Both had meetings Friday at City Hall with Harrell to discuss the transition of power if either were elected.   This all comes as a result of the child sex abuse scandal that forced former mayor Ed Murray to resign.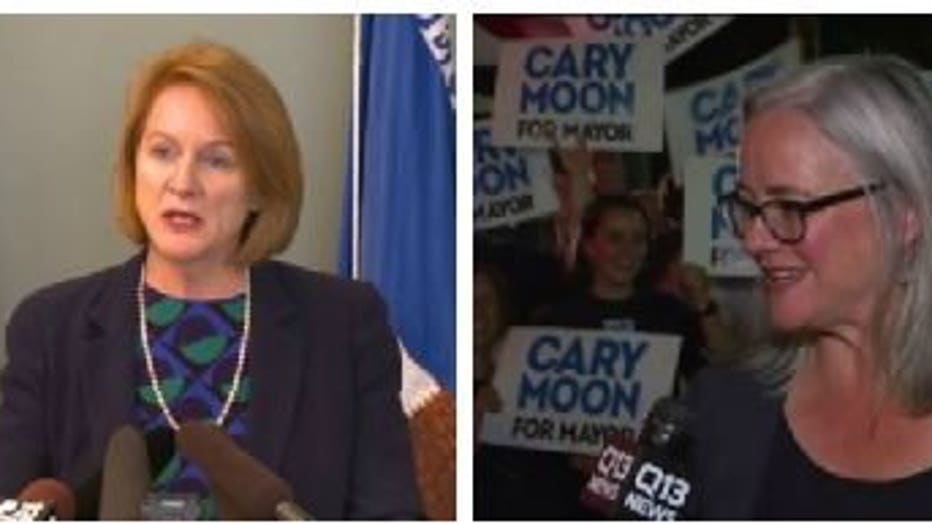 Seattle mayoral candidates Jenny Durkan (L) and Cary Moon
"I think the city staff and city council and current leadership in the mayor's house is high integrity and trust worthy. I think we had a blip.  Mayor Murray had an issue, but we are ready to move forward I think Seattle is a real high integrity city and people care about making good things happen.  So I think we're already back on solid footing and solid ground and moving forward," said Cary Moon. "My focus is I want to convince the voters that I'm the person they want as mayor. We are not thinking about how it will be running government. Obviously, with this transition happening quickly we have to think a lot more about organizationally.  So I think it's very good both of us came in.   We will get briefed equally.  I don't want to get distracted or diverted," said Jenny Durkan.