Durkan aims to fulfill free-college promise by 2020


SEATTLE -- Free college could soon become a reality for all high school students in Seattle.

Mayor Jenny Durkan, Seattle Colleges Chancellor Shouan Pan and Seattle Public Schools Superintendent Larry Nyland, signed a partnership agreement Wednesday that allows for the expansion of the Seattle Promise Program, which aims to provide free community college tuition to high school students.

"How many people think Seattle jobs should go to Seattle kids?" Durkan yelled at a crowd of students at Ingraham High School before signing.

Durkan said the affordability crisis is the central problem in Seattle and obtaining a post-secondary degree, credential or certificate is necessary to obtain a living wage job. She pointed to a statistic that said by 2020, 70% of all jobs in Washington state will require some post-secondary education, but only about 31% of Washington's high school students get that by the age of 26.

"In the City of Seattle you should be able to grow up and either work in those shiny new buildings downtown, build those shiny new buildings or own those shiny new buildings," Durkan said.

The Timeline

The 2018-19 school year will serve as a transition year, according to the timeline released by the mayor's office.

During this transition year, a total of six Seattle area high schools will be served through the Seattle Promise College Tuition Program in partnership with all three Seattle colleges.

The program is expected to serve about 1,000 high school and college students, including approximately 500 students in six high schools who will have access to support and outreach staff for college readiness and wrap around college preparation services.

Approximately 215 students will receive '13th Year' scholarships at Seattle colleges and approximately 120 students will be eligible to receive '14th Year' scholarships at South Seattle College.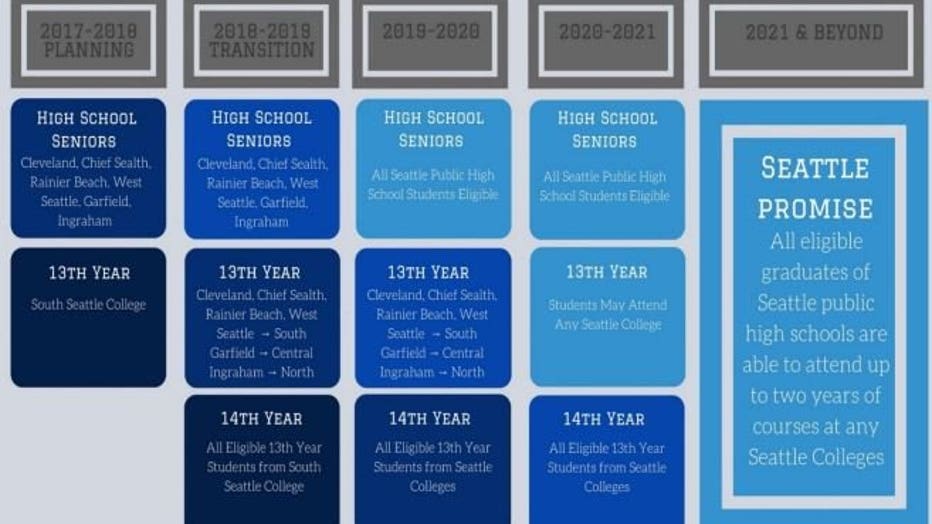 In 2019, all Seattle public high school students will be eligible for Seattle Promise, and by 2021, the Seattle Promise will serve all eligible Seattle public high school graduates.

Cost of the program

Durkan's office estimates the program will cost $6.3 million annually, once the program is fully implemented.

That cost is based on enrollment projections from South Seattle College and includes staff for college preparation and wrap around support at both the high school and college level, "last dollar" scholarships, and additional budget for equity funds for students who require additional assistance.

For the transition year (2018-2019 school year), Durkan estimates the cost at $1.76 million, which includes $1.1 million from the city.

Durkan's office didn't specifically say how the program will be funded but said the program will likely include a combination of city investment, private partnerships, and Seattle Colleges.

"Barriers to college often span generations, and for too long have held back communities of color, immigrants, and refugees. Seattle Promise will open doors and change the lives of our young people by creating true economic opportunity for Seattle students," Durkan said.

In November 2017, Durkan signed an executive order directing the City of Seattle to create the Seattle Promise College Tuition Program.

The Seattle Promise College Tuition Program will expand on the successful 13th Year Promise Scholarship from serving three high schools to serving six high schools – Chief Sealth, Cleveland, Garfield, Ingraham, West Seattle and Rainier Beach. Beginning in the fall of 2018, current 13th Year Promise Scholarship students will be eligible for an additional 14th year of tuition support.