Dozer, the walrus at Point Defiance Zoo & Aquarium has a new girlfriend
TACOMA, Wash. -- Dozer, the male walrus at the Point Defiance Zoo & Aquarium has a new girlfriend. 22-year-old Kulu arrived this week. She is joining two other female walruses, Joan and Basilla, as part of a managed breeding program.

They are among only 14 Pacific walruses at accredited zoos and aquariums in the United States.  That means visitors to Point Defiance Zoo & Aquarium have the opportunity to see nearly a third of all Pacific walruses in the nation's accredited zoos and aquariums.

"This is an extremely rare occurrence, and it underscores the importance of having these four walruses together in the hope that they might produce some calves," Point Defiance Zoo & Aquarium Aquatic Animal Curator Neil Allen said.

"Their numbers are critically low. Walruses in zoos and aquariums are ambassador animals that help teach us about the perils that climate change poses to their counterparts in the wild."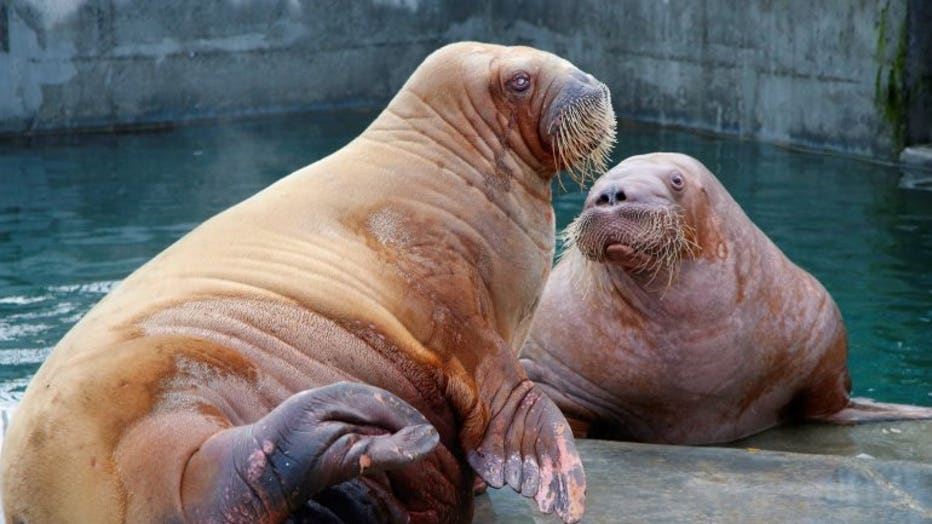 (Point Defiance Zoo & Aquarium)


Keepers describe Kulu as a playful walrus with a strong personality who is excited to learn new behaviors. Kulu is in Tacoma on a long-term loan while renovations are made to repair storm damage at the Wildlife Conservation Society's New York Aquarium.

She is expected to be on exhibit in the zoo's Rocky Shores area this weekend.

Dozer arrived at Point Defiance Zoo & Aquarium from Sea World San Antonio last month on a breeding loan through the Walrus Conservation Consortium, a group of zoos and aquariums that either have walruses in their care or are active in the quest to conserve the iconic marine mammals.

Members of the consortium have studied walruses for decades and believe there's a greater chance that reproduction might occur with a larger group of females and one male.  In the wild, a dominant male typically will mate with several females during the breeding season.

Dozer is scheduled to remain in Tacoma through the rut, or breeding season, which generally runs into spring.

Joan and Basilla have been residents in the zoo's Rocky Shores area for many years.