Dozens of people displaced after fire in Skyway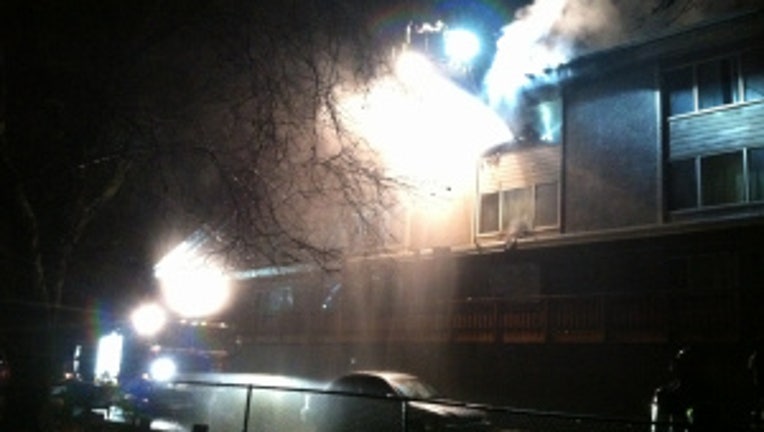 SKYWAY -- Dozens of people in south Seattle were looking for a place to stay after an early Thanksgiving Day morning fire at the Greentree Apartment Complex in Skyway forced them from their homes.

Firefighters responded to the 6900 block of South 123rd Street just before 2:30 a.m. and found an apartment engulfed in flames. The complex was evacuated, and no injuries were reported.

Displaced resident Clarence Coleman said, "There was a lot of yelling and screaming out in the hallway and then about 20 minutes later there was a banging on the door that said, 'Fire! Fire!'

"I just put on some clothes, stepped outside and the fireman said, 'You can't go back in.'"



A fire had broken out in the unit above him, and on Thanksgiving Day Coleman and several other residents were forced to sit in a shelter that the Red Cross opened at the Renton Community Center in Renton.

"I have no idea what I'm going to do," Coleman said.

Firefighters said one apartment was destroyed, while others suffered heavy smoke and water damage. Up to 16 units were affected.

"We're going to keep that building closed until we can determine (a cause of the fire) and that could cause a delay because this is a holiday, and I don't know quite how Friday falls for everybody else, but our hope is going to be to get these people back in their homes," said Dave Nelson of the Skyway Fire Department.

"I'm still here," Coleman said. I thought I had it pretty rough, and I was kind of  down-heartened at times, but there are people out there in Seattle right now that are doing way worse than I am, so I'm grateful."

Fire investigators said they do not believe the cause of the fire is suspicious.