'Don't do it, don't jump!': State trooper talks of grabbing suicidal man at last second (VIDEO)
SEATTLE -- A Washington State Patrol trooper is being called a hero for grabbing a suicidal man as he darted to leap off a bridge.

But the trooper has a different view of it: Trooper Yaroslav Holodkov says he just happened to be in the right place at the right time.

"For some reason, I started to drive across the Snohomish County River and when I looked back I saw an individual standing on the guard rail looking over the river and the one thing that kind of caught me was his white shoes," Holodkov said of the incident on August 11.




As he turned his patrol car around, Holodkov said he was grateful to see the man was still standing there. So he turned his lights on -- and slowly began to approach and start up a conversion.

"He said he had a bad day. I mean, everybody has bad days, and then out of nowhere he just leaped, and as soon as he leaped I reached out and grabbed his shirt, that was the closest to me and so I grabbed it and I think there was just enough of a pullback to where he just fell on the rail."

In the video, Holodkov can be heard yelling, "What's wrong with you? Don't do it, man! Don't do it, don't jump! Don't do it, don't do it, don't do it. Stop! Stop! Don't do it, it's not worth it, buddy. It's really not worth it."

The trooper managed to pull the man back to safety onto the bridge.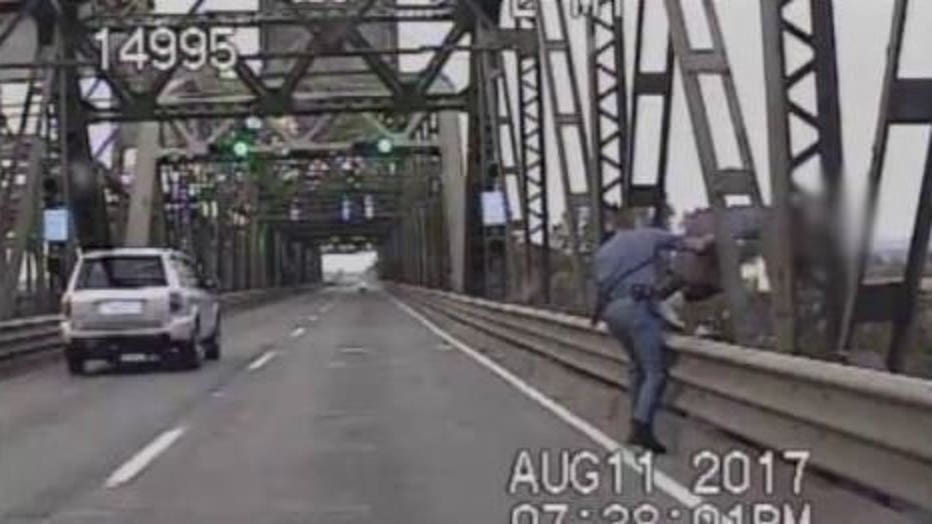 Holodkov said while he's trained to talk to suicidal individuals and those suffering mental health issues, nothing can really prepare you for a moment like that.

"I didn't expect it ... I just happened to see him and, I guess, lucky for me and him I was there. There was no thought going through my mind. I think it was just pure reaction (when) he did it, and I reached to prevent him, to save a life. And that is our job -- it's just part of the job."

The trooper added, "Is it nice that people see it and recognize it and stuff like that? Yeah. But I don't think any of us are looking for fame, it's just part of the daily duties -- and this is something we signed up to do."