'Disturbing serial crime spree': A 12th cat found mutilated in Thurston County


OLYMPIA, Wash. -- A 12th mutilated cat was found in Thurston County on Tuesday and is believed linked to the others that have been carved up and displayed in public by a suspected serial cat killer, Olympia Police Lt. Sam Costello said.

The manner, appearance and staging of the cat is "consistent" with the other mutilations, Costello said.

The most recent cat was found in the 3800 block of Pacific Avenue in Olympia at noon Tuesday. Costello said this occurred at a place of business, and workers left at 5 p.m. Monday and the cat's body wasn't there then. So its body must have been left between 5 p.m. Monday and noon Tuesday, he said.

The cat had the "same degree of carving, surgical-type mutilations" that make it consistent with others, Costello said.



All the cats have been "splayed out" in a manner that could only be caused by a human, he said, adding that the cats appear to be "posed."

"It's disturbing and scary stuff, because the question is not only what happens to the animals who are victimized which is very disturbing but making sure this behavior doesn't escalate," said Kenneth Muscatel P.H.D. a forensic and neuropsychologist.

Muscatel has worked with murder cases for decades. He says he believes this suspect is planning these killings.

"Likely, the individual is not a successful or highly engaged individual with society and this is a way of feeling they get attention," said Muscatel.

The reward for information leading to the arrest and conviction of the person mutilating cats in Thurston County was increased to $36,000.

Thurston County Animal Services is the primary investigator, but all agencies are working on this.

In many of the other killings, the cats were sliced open with a knife or scalpel and their spines were removed. The dead animals were then left in a public setting.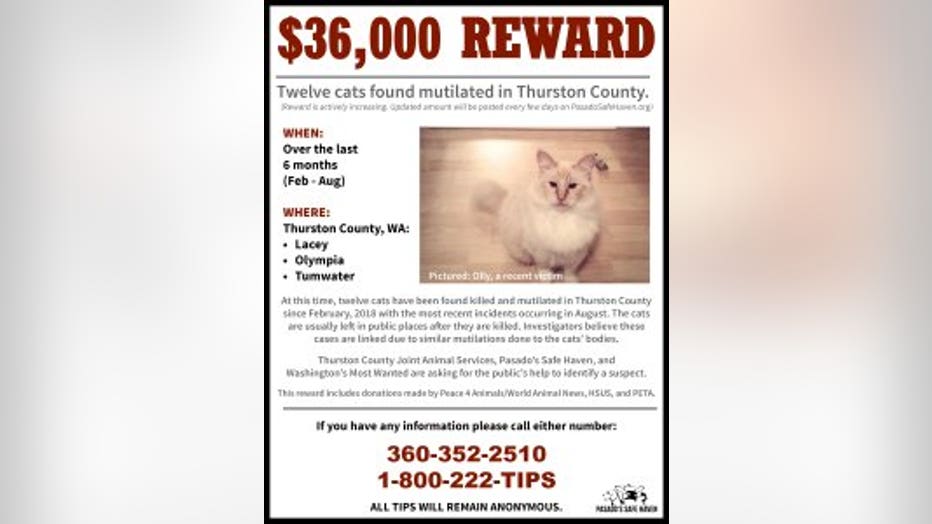 Last Thursday, the Thurston County Sheriff's Office said it had assigned a major crimes detective to work with the various, previously assigned investigators from other agencies "to solve this disturbing serial crime spree."

"TCSO is extremely concerned that such a predator/s is lurking and committing such vile crimes within our community," the sheriff's office said in a news release last Thursday. "TCSO will expend every available resource to solve these serial crimes and bring the perpetrator to justice."

If you have any tips, you can call Thurston County Animal Services at (360) 352-2510. You can donate to Pasado's reward fund here.

Here's a breakdown of the rewards being offered: