Did you see something bright in the sky last night? You're not alone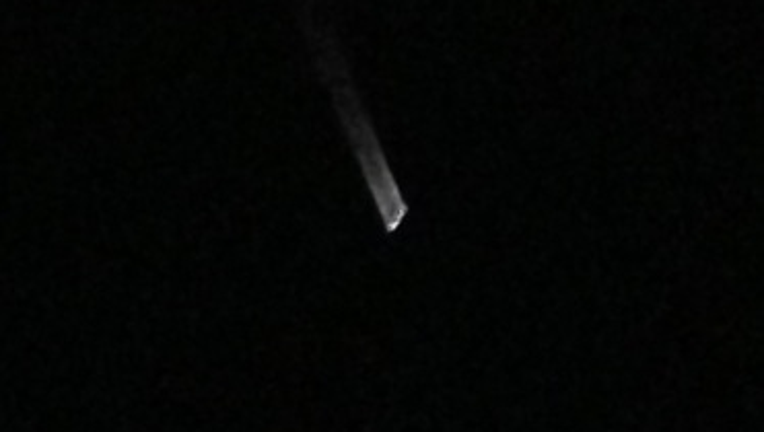 article


SEATTLE -- Did you see something bright in the night sky late Monday night?

You are not alone.

Q13 FOX News viewer Markie Transue sent in a photo he captured around 11 p.m. in the Washington sky. Transue said he spotted the object, noticed it took a long time to burn up, and quickly took out his iPhone to grab a photo.

"I am not sure if it was a falling satellite or a meteor," Transue said. "But it was quite the spectacle to see."

But don't cue the X-Files soundtrack just yet.  Q13 FOX News Meteorologist M.J. McDermott sent the photo to local astronomer John Angell for his take. Angell said he received multiple reports of people spotting something Monday night, and he believes it wasn't a meteor, but more likely "space junk" falling to the ground from orbit.

"A meteor or moves at like 40,000 mph when it enters and creates a 'fast streak,'" Angell said. "Space junk moves slower -- only 18,000 mph and would burn up and appear to move slower."

Reports coming from as far away from Utah seem to confirm Angell's explanation. Patrick Wiggins, the NASA Ambassador to Utah, said he didn't spot the object himself, but told CBS Salt Lake he was almost completely sure it was a rocket from China that launched a satellite in December and has been orbiting the earth ever since.

CBS Salt Lake reportedly received a "flood" of calls from people spotting the streak. Wiggins told CBS Salt Lake it certainly couldn't have been a meteor given the amount of calls NASA and local TV stations received.

"It was not a meteor," Wiggins told CBS Salt Lake. "because they take a second. This was minutes."

About 14,000 objects orbit around Earth, Wiggins told CBS Salt Lake, and it isn't rare for them to fall back. Often though, the space junk falls over the ocean or in uninhabited places, making sightings rare.

For video of the object, click here.