Deputy says he smelled alcohol on driver who plowed through home, killing 2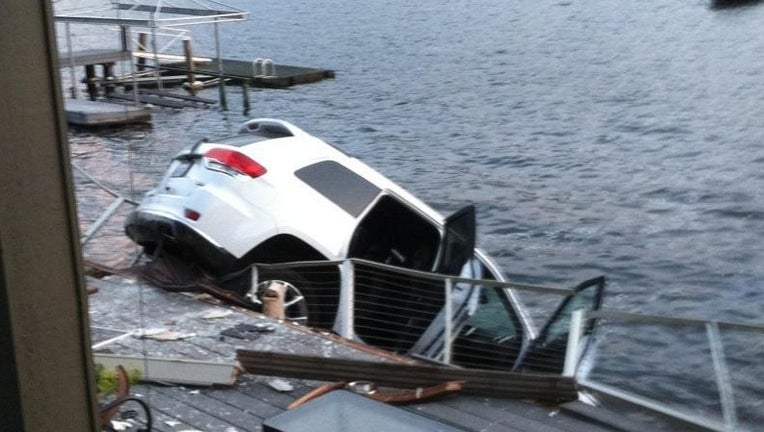 SAMMAMISH, Wash. -- The woman who drove her Jeep through her home on Lake Sammamish, killing her husband and son-in-law and critically injuring her daughter, had alcohol on her breath, a deputy said, according to court documents.

But until investigators can reconstruct the accident, there will be more questions than answers.

The waterfront home remains boarded up as of Tuesday.

On Friday, the 68-year-old drove the Jeep through the front door, through the living room, ending up nose down in Lake Sammamish.

"There was no way she could have gotten that car going that fast from where she was in front of her house," friend Frank Olsen said.

Detectives say the Sammamish woman was trying to re-park a new Jeep, with her 3-year-old grandson on her lap.

Olsen has known the driver for 35 years and says she would have never put her family in danger.

"She is just a wonderful person, wonderful mother, and always been trying to help other people if they have a problem," Olsen said.

Court documents released Tuesday reveal that investigators smelled a strong odor of alcohol coming from the driver. It also states that she gave inconsistent statements of who was inside the home.



Three family members were inside. Her 70-year-old husband, David Walker, died at the scene; her 40-year-old son-in-law, Sean Berry, died later at Harborview. Her daughter, Megan Berry, was also seriously injured.

"She's really friendly and always smiling," student Cecelia Bresbee said of Megan Berry.

Megan is a fifth-grade  teacher at Kenmore Elementary and, as she recovers, students are reaching out.

"We are making a chain out of little papers, writing something on it, and we are making a big chain to give to her," Bresbee said.

In a letter dated Monday, the principal told parents there were grief counselors on hand and that Megan is expected to make a full recovery.

As for the driver, she is out of jail pending a lengthy investigation, including a toxicology report.

"If you had a couple of glasses of wine and you are only going to move your car to the garage, why would that be a problem? I am sorry, I just don't buy that," Olsen said.

Olsen wonders if there was a mechanical problem with the SUV. The King County Sheriff's Office says at this point they have not ruled anything out.

"Regardless of prosecution, she is going through hell. I would hope that someone close to her is watching her because this is such a tragedy," Olsen said.

The driver and grandson were not hurt during the crash.

Detectives say the driver refused a preliminary breath test at the scene. The sheriff's office says the case is complicated and could take several more weeks to wrap up.