Deputies seek arson suspect who firebombed Pierce County home with Molotov cocktail
NEAR PUYALLUP, Wash. -- Kimberly Bobb says she was lying in bed at 5 a.m. on November 7th when she heard a small but loud SUV in her neighborhood near Puyallup on 108th Ave East.

"My mother heard it too. She got up and looked out the window at the neighbor's house and saw a huge fire," said Bobb.

She jumped out of bed, threw some clothes on, called 911 and raced over with a fire extinguisher.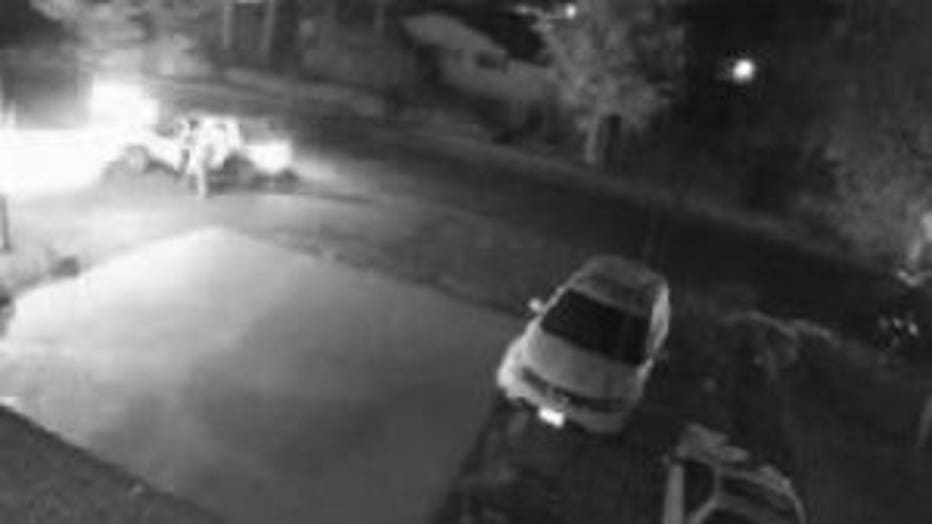 "The woman who lives there has limited mobility so I was worried she couldn't get out of the house so I am just thankful it was small enough to where I could put it out and she was OK," said Bobb.

Pierce County Sheriff's detectives are now trying to identify the suspect in the SUV seen on surveillance camera.

"You could see that he planned it. It was deliberate. He got out. He lit the Molotov cocktail, launched it right at the residence he had targeted and he got back in the vehicle and fled so this is somebody who went to the residence knowing they were going to do this and that makes him dangerous," said Det. Ed Troyer.

Fortunately, the damage to the garage door was minor.

"There was glass spread all over the place and a rag on fire and it had burned the bottom portion of her garage door and the flames had gone up higher on the trim and warped the trim," said Bobb.

Fortunately, the 73-year-old woman inside wasn't hurt.   Neighbors believe the suspect may have been targeting the victim's son in a dispute over a girl.   Bobb says she's heard the SUV with the loud exhaust before.  Detectives are following up on all leads but no arrest has been made.

"We're gonna guess this is probably somebody who had a personal issue with the residents or somebody staying in the residence that did this," said Det. Troyer.

If you have any information on the location of the SUV, the identity of the suspect or anything that can help solve the case, submit an anonymous tip to Crime Stoppers of  Tacoma-Pierce County.  There is a cash reward of up to $1,000 if the information leads to an arrest and charges in the case.

"Somebody tries to kill a little old lady in her house that cannot get out, it's very upsetting," said Bobb.